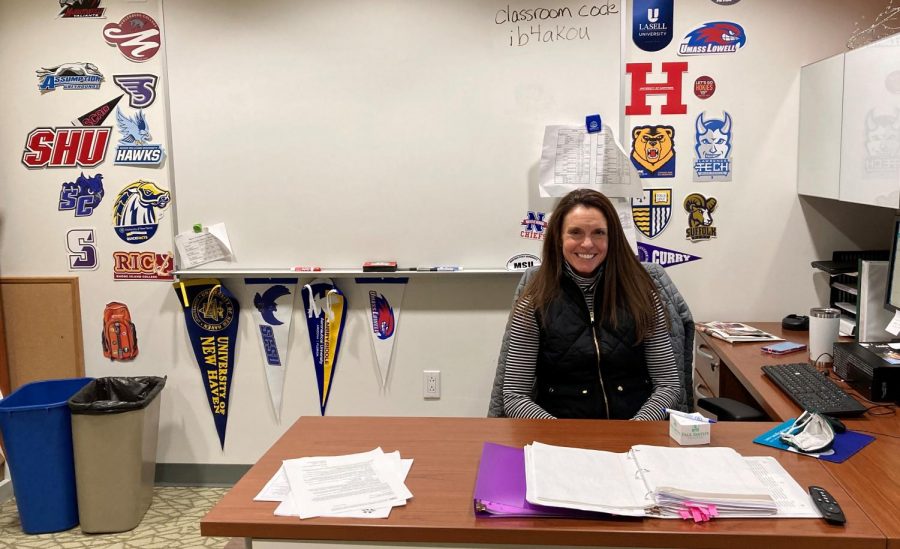 Kyle Brennan
WOODBURY — Kathy Green's position as the part-time guidance counselor overseeing Nonnewaug High School's College and Career Resource Center is a major asset for students. She helps to guide them through the college application process and prepare them for post-secondary life.
Green has been a tremendous help to seniors, especially this year, as students are applying to colleges remotely. She has provided students with a great deal of virtual opportunities to talk to college admissions counselors and many resources to help them plan for a future that best fits their individual needs.
"Mrs. Green walked me through the Common App and with setting up my Naviance account, as well as linking the two sites together and getting my letters of recommendation," senior Kellen Herman said. "[She] worked with my counselor to help me make sure I was all set to apply to college and without her, it would've been incredibly difficult."
"[She] has helped me in a number of ways in the college application process. Any questions I had about filling out my Common Application, she could answer for me and when I got accepted into schools, she was genuinely excited for me," senior James Vincent agreed. "Our school counselors have a lot on their plates with other students, so it is nice to have a place where seniors can go to get quality one-on-one time to focus on the college application process."
Students feel that Green's role is vital to NHS because of how it sets the school apart from others.
"She was there to lay out the steps, to help me understand the college application terminology, review the applications and essays, and send transcripts even before I submit my application," senior Chris Stowell said. "Being from out of district, I know many students going through the same thing we are as seniors and they are struggling with it due to not having a position like what Mrs. Green has. … The CCRC is a unique opportunity for students to receive the help they need for post-secondary planning; it puts our district above others in this sense."
Her position allows the full-time guidance counselors to be able to focus on other student needs.
"With the absence of Mrs. Green, our amazing guidance department would have a larger case load," Stowell continued. "This would take away from underclassmen who need to talk to their counselors about classes and emotional needs."
Senior Allie Roche said that without Green, "the counselors wouldn't have enough time to get to everyone and students would be left confused."
Green also helps to ease the stress which both students and parents may feel when beginning college preparations. 
"Most students have no clue how most of the process works and to some parents, it is almost a whole new experience," said senior Tyler Lavaway.
According to senior John Iamiceli, without Green, "the students would not know how to even start to apply for college. We would lose the amazing resource that helps us understand college applications."
Green has touched the lives of students so deeply that her impact can be seen after graduation. NHS alumni feel strongly about the importance of her position. 
"Mrs. Green was one of the biggest support systems for me at Nonnewaug. When it came to college applications, anything I needed, she was there to help me," said Annie Montero, graduate of the class of 2020 and freshman at the University of Tennessee. "Any question I had, she was there to answer it without hesitation. When it came to me getting into college/choosing where I would be attending, she could not have been more excited for me."
"Mrs. Green was my rock in the college app process [and] if it wasn't for her, I would not be successful at QU," noted Arden Peters, graduate of the class of 2020 and freshman at Quinnipiac University. "She pushed me to apply to schools I didn't think I could attain, where in the end, it was the school that I am at right now and I love it so much."
"She gave [me] a lot of support that was very much needed and if I needed any help, she would be there," said Rebecca Reimold, graduate of the class of 2020 and freshman at Muhlenberg College. "She is the support system for a lot of students and they benefit from her advice."
Students from last year's graduating class also feel that Green's roles extend beyond the college application process. 
"She was always someone students could turn to and talk about literally anything," said Kiley Bushka, graduate of the class of 2020 and freshman at the University of Rhode Island. Bushka added that Green is one of the main resources of "help, guidance and support" for students.
"Yes, we have guidance counselors, but they focus on more of our high school life, not our college life," said Montero. "The CCRC is a place where students can be comfortable with asking any questions about college/life after high school and be able to figure out what they want to do."
"What makes her job important is how reassuring and inspiring she is towards students. She encourages students to not settle and reach for what they want," said Peters. "She helps the students organize and publish their works to get them out on time. She is a watcher over everything and keeps track of the hundreds of students that she has."
Peters concluded: "Mrs. Green helped push students to reach for the stars."