Superlative Spotlight: Most Likely to be TikTok Famous
Lindiana Frangu, Activities/Academics Editor and Social Media Editor
March 3, 2021
WOODBURY — Senior superlative voting for Nonnewaug's Class of 2021 took place in December. The yearbook staff sent out a first Google Form for suggestions on who students thought should win each superlative category. After the staff sifted through those submissions, they sent out a final voting form to students with names of the top nominees.
The Chief Advocate will spotlight the winners of some superlatives throughout the second semester.
Most Likely to be TikTok Famous: Pedro Prates and Emily Betkoski
TikTok has taken the world by storm. It's not only a fun place to watch short videos, but it has also been a marketing tool for businesses. Nonnewaug seniors believed that Pedro Prates and Emily Betkoski were the most likely to become famous on the platform, so the Chief Advocate asked each winner about their TikTok experiences.
What's your most viewed video?
Prates: A TikTok with my girlfriend
Betkoski: 701,300 views
What's your favorite video?
Prates: The videos I make with my girlfriend
Betkoski: I like the more lighthearted ones.
What kind of content do you create?
Prates: Comedy
Betkoski: Funny videos, mental health-related videos
How many followers do you have?
Prates: 126,000
Betkoski: 6,715
Would you want to become TikTok famous, and why?
Prates: Yes, since you can brighten up many people's day.
Betkoski: That would be fun; I wouldn't need to become famous, but as long as my more important videos reach the right people, the number of followers doesn't really matter to me.
What famous creators do you admire and why?
Prates: David Dobrik, since his videos are funny as well as wholesome.
Betkoski: @claraandherself, because she is a huge advocate for mental health and eating disorder recovery; @siennamae, because she also is an advocate for body positivity and mental health; and @colleen, because is she is supportive of everyone.
What is your TikTok username? 
Prates: @papipanini
Betkoski: @superst3llar
About the Writer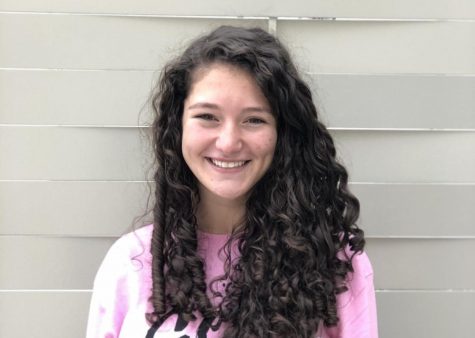 Lindiana Frangu, Activities/Academics Editor and Social Media Editor
Lindiana Frangu is a senior at Nonnewaug, and this is her third year writing for the NHS Chief Advocate. She is the activities and academics editor, as well as the social media editor. Along with her experience writing for the paper, Lindiana has had experience with marketing and social media from being Miss Connecticut's Outstanding Teen 2019 and 2020. She also has been a subject of many articles in newspapers in Connecticut. She is a part of the Senior Class Council, Wingman, and many other clubs and activities at Nonnewaug. She has a passion for helping others and loves to take on extra responsibilities.