Bouchard, Nonnewaug's Musical Savant, Blends Passion with Profession
WOODBURY — Many people at Nonnewaug High enjoy music — students, teachers, staff and administrators. But the crown of musical passion and profession can go to none other than Dr. Jason Bouchard, Nonnewaug's band director and fine arts teacher.
Bouchard has enrolled in several different colleges and universities, obtaining several degrees and a Ph.D. in curriculum and teaching. It all started at Keene State University in Keene, New Hampshire.
"I enjoyed teaching, so I started looking at music education and looked at a number of fine universities such as UConn, UMass, Penn State, the University of Vermont, Keene State," Bouchard said. "I got into all of them and got a lot of scholarships to all of those places and eventually ended up at Keene State. In New Hampshire, the whole time I was there, everyone I had met who was teaching went to Keene State. It had that kind of reputation and still does."
After graduating from Keene State, he earned his master's degree at Lesley University in Massachusetts, where he specialized in curriculum writing in creative arts. Soon after, he added two more degrees.
"I learned how to write curriculum for not just music but art, theater, and dance," Bouchard said. "Then I did an administration degree at Central Connecticut State University to better understand how to navigate working with the administration and to help build programs, because you need the support of everyone around you at school, and then I finished up with a Ph.D. from North Central University [in Minneapolis, Minnesota] in curriculum and teaching."
Bouchard is involved in plenty at Nonnewaug, but he still finds time to enjoy music in his free time.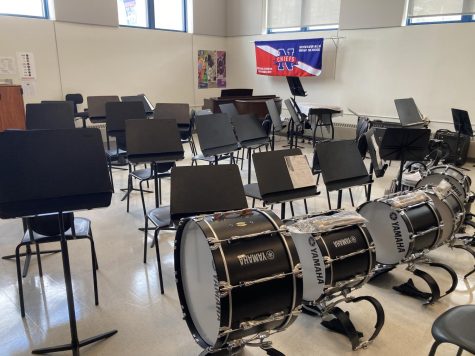 "I still perform professionally on the tuba," Bouchard said. "I play for the Manchester Symphony Orchestra, and I've had a number of wonderful performances with them. There have been many times we played which have been very memorable and exciting experiences, and there have been many times when I got called in to sub in with other orchestras, which have been a lot of fun."
Bouchard is a family man, too, and he enjoys getting to mesh his two loves.
"The other aspects of my life which I really enjoy is being with my family, my wife and daughters; you know, doing activities with them, skiing with them on the weekends, and having a life away from music in a little bit of a way," Bouchard said. "But at the same time, we do see a lot of concerts together, perform in a lot of places together, and have some very memorable moments, such as performing at The Bushnell [in Hartford]."
His favorite part about teaching music at Nonnewaug is the group of Chiefs he works with.
"The students — working with them every day, being a part of their musical growth, getting to know them more, watching them grow musically as students and as individuals and musicians," Bouchard said.
When thinking about his future, Bouchard envisions Nonnewaug's music program growing.
"I see myself still here," Bouchard said. "I still see myself working with the students here, and instead of being in front of the 30 to 40 students now, it would be in front of 100 students."