2020 Berkshire League Champs? Nonnewaug Girls Soccer Thinks So
Looking to build from a second place finish for the Berkshire League title against Housatonic Valley Regional High School, the Nonnewaug Chiefs Girls Soccer team is very optimistic about the season. Led by senior captains Mia Higgins, Alexa Burke, Kate Greene, and Grace Koukopoulos, the Chiefs have the goal of bringing back the title to Nonnewaug.
The last image of Nonnewaug athletics was the boys basketball team losing the Berkshire League title to Wamogo High School in a heartbreaking championship loss. That sour taste in the fans' mouths has lasted for nearly seven months due to CIAC's decision to cancel the rest of winter and spring sports to prevent the spread of COVID-19. Now in October, school is back in session and so are sports, with a twist. Region 14 recently made the decision to not allow spectators at home games, with the exception of up to two parents per athlete. While it is a hard pill to swallow for Tribe fans, keeping the school community safe and continuing to protect against the spread of COVID-19 is the main priority. 
Even for the athletes, reminders of this pandemic never go away. With the constant wearing of face masks, social distancing on the bench, and banning of fans at home games, it certainly has had an impact on players. "Knowing that there will be no fans this year saddens me," said Mia Higgins, senior captain who plays defense. "Fans create this competitive and fun environment. They sometimes push us to run even faster, shoot even harder and play even smarter. Knowing you have a crowd of fans there supporting you, gives us players such a chip on our shoulder and without them this season will be so different." 
While there are no fans, the team is extremely grateful they are able to have a season at all. "As upsetting as it is to not have fans I am still thankful that we have been given our season back," said Grace Koukopoulos, a senior captain who is a utility player. "When the season was originally cancelled I was speechless. The idea of not being able to play my senior year was devastating. Year after year I have worked my hardest in and out of the season, so if my senior season was truly taken away, I would have felt empty on the inside knowing that I would have never finished my soccer career as a Chief." 
"If this season was taken away from me I think I would have been very disappointed," said Higgins. "Soccer is more than just the game to me; it's how I hang out with my friends, how our team creates such a family-like bond, and how we pick each other up when things are tough. Us seniors would be losing so much more than the game."
So far, the lack of fans has not affected the competitive spirit of the players, as the team has four wins and only one loss, with wins over Northwestern Regional, Shepaug Valley, Litchfield, and Thomaston. "Although I do love having fans, them being on the sideline or not does not affect my play because when I am on the field it is me and the other 21 players out there. We are playing the game, not the fans," said Koukopoulos. Kate Greene, a senior captain who plays right midfield, added, "I don't think that not having fans will affect how we play, but obviously it's more fun to have people cheering you on."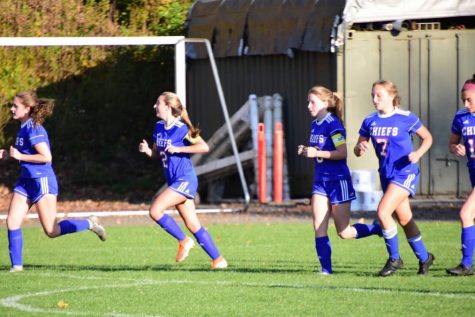 However, nobody knows if the pandemic will spike again, but the CIAC has stated if it does, any fall sports would be cancelled and not be rescheduled during the 2020-2021 school year. 
Overall, with three players graduating from last year, the Chiefs know that losing such leaders on the team is going to be hard, but with their hard work and dedication, they could go even farther this year then last. "This year I am confident that we have a really good chance of winning the league this year," said Alexa Burke, a senior captain who plays left midfield. "We don't really have one stand out player like other teams, but we do have many players that all work well together and I think that makes our team better than others. We have also been working really hard over the past couple weeks making sure that we fill those spots that the seniors played last year." 
In addition to playing out this season, this also will be the last season for the seniors, who hope they leave behind legacies for the underclassmen with their leadership and memories on and off the field. "The legacy that I want to leave behind is to always remember to be kind, to play with a smile and not be so hard on yourself. To have team spirit and to pick up your teammates when they need it," said Higgins.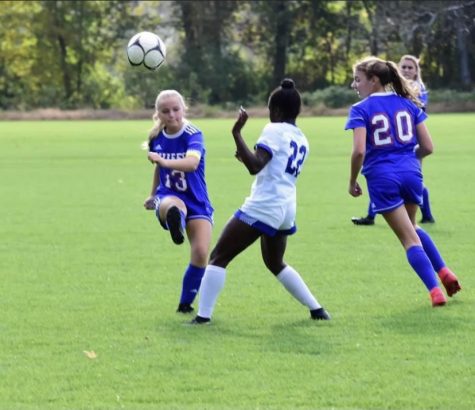 Regardless of what happens this season, the players want to let the fans know how much they appreciate all that they do. "I am obviously disappointed that no fans are allowed and still working on trying to get them back, but I would like to say thank you for always being supportive of our team," said Burke. Koukopoulos added, "I would like to say to the fans that I wish they could be out there watching us, and I was thankful to have them rooting for us on the sideline in the previous seasons"
"To the tribe: I know this year would've been full of school spirit and the fall teams are so sad you can't come to our games this season. We will miss you and hopefully by winter or spring we can be back bringing all the hype to our sporting events! Roll Tribe!" said Higgins.
Looking to bounce back from their tight game against Housatonic-Wamogo 4-3, the Chiefs will be searching for their fifth win this Friday, October 23, at Gilbert.
Leave a Comment
About the Contributor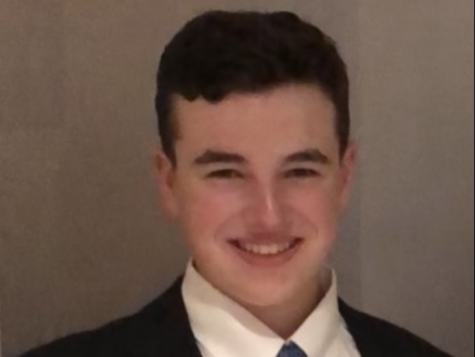 Owen Brown, Assistant Sports Editor
Owen Brown is a senior at Nonnewaug and the assistant sports editor of the NHS Chief Advocate. Owen is also beat reporter for Nonnewaug athletics and helps to cover all sports at the school. He's also a member of the Nonnewaug baseball team, jazz band, and Unified Buddies, as well as being a Wingman leader, an officer for our National Honor Society chapter, and a part of the Nonnewaug broadcast team. Outside of school, he enjoys playing basketball with his friends, fishing, and skiing.