A Look Inside The Nonnewaug Boys Soccer Defending Champs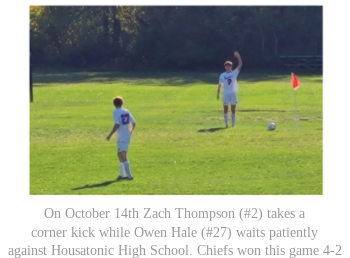 The Nonnewaug boys soccer team season is in full swing, currently at 4-1, with their only loss coming the first game of the season to Northwestern Regional 7 High School.
Despite losing three key senior players after graduation, there is still a lot to be said about the defending Berkshire League champs. The most notable change being at the goalie position with new transfer Dylan Chung, who is filling big shoes left behind by 2020 graduate Jimmy Parker, alongside former backup goalie Ben Stewart. Another notable change for the program this year is that the "Tribe" fans won't be able to show their support in-person due to pandemic restrictions. 
Although it will be hard to predict how the 2020 season will go, it's a safe bet to expect another great season while under the guidance of longtime coach and Nonnewaug science teacher Tobias Denman. Denman has been the boys soccer coach since 2001 when he took an assistant coaching job. Four years later, Denman took over as the head coach of the boys team and from there it was history. He helped the team to three Berkshire League Championships as the assistant coach and  six League Championships under a head coaching position.  
Their most recent Berkshire League Championship came just last season, where the boys lost only their first game of their season. As the saying goes, 'history does repeat itself' as this year the boys lost their first game and are now on a four game winning streak and looking better than ever. 
This Boys team is  coming off a 4-2 win over Housatonic Valley Regional High School on October 14th. Senior captain Jon Khazzaka was asked if losing the first game, similar to last year, helps to push the players to work even harder. "It definitely does," he said. "Losing the first game of the season definitely showed us this year and last year that we had to step up." He added, "we hope that we can complete the same record we did last year with only losing our first game. I am confident that we can." 
It's fair to say everyone on the team thinks they truly have a shot to run back another championship this year. Coach Denman said, "we'd like to bring a win home again. I'd be lying if I didn't think we had a shot to bring it home." 
However, the true fate of this team lies with head captain Zach Thompson and key defenders Jon Khazzka and Franco Pannofino. Thompson, a varsity player for all four years of his time at Nonnewaug, had his best season last year, scoring 19 goals as a left striker and being named all BL Boys Soccer First Team. Thompson, a key piece of the Nonnewaug offense, said his goal this season is simply to "score more goals and win the Berkshire League (again)." This type of focus is what is admired by his teammates and sets a precedent for the underclassmen that will follow.
One thing  Tribe fans can look forward to is the strong mentality, work ethic, and competitive spirit of this team.  As Thompson says, he is ready to show the other teams ¨who the boss is.¨
Leave a Comment