Do Students Want to Return to School Full-Time?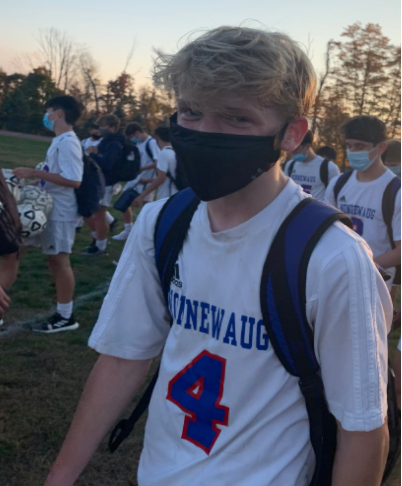 WOODBURY — Do Nonnewaug High School students even want to go back to school this year?
Many Nonnewaug students used to dread getting up for school in the morning. Waking up early and being forced to go somewhere you don't want to go is something all people hate.
During the COVID-19 pandemic, students across the nation started virtually having classes. Many students say these classes were awesome for about three months. After a while, students dreaded having to get up and spend a whole day staring at a screen for hours just trying to find things to do to pass time while in class.
Some school systems have now implemented a hybrid schedule. The hybrid schedule is one in which half the students go to school on Monday and Tuesday, while the other half goes in on Thursday and Friday. Wednesday is a makeup day for any missing work.
Now, students have mixed opinions of whether they'd rather be in school or at home.
"I'd rather be at home," sophomore Adam Paganelli said. "I want to be at home to keep the risk level of myself and others safe."
Paganelli said he likes the hybrid schedule, especially with the flexibility of Wednesdays.
"I feel like this is a safe way to have kids come in and learn but also keep most kids safe with not bringing everyone in," Paganelli said. "With, Wednesday I can catch up on some of my work, and teachers can assign assignments on Wednesday rather than have them continue into Thursday."
Last year, students were online for the remainder of the year after the pandemic hit in March. Paganelli said he wasn't a fan of being all online last year.
"It was hard to understand instructions when it's coming through a computer, and it's hard to have one-on-one conversations with your teacher," Paganelli said.
Fellow sophomore Andrew Greene said the biggest downside to the hybrid schedule involves social life.
"In a perfect world, I would want to see all my friends at school," Greene said, "but because of the pandemic I think it's better for us to stay at home."
Greene, also a starter on the varsity boys soccer team, has to deal with not having any fans at any of his home games.
"Obviously without fans the feel of the game just isn't the same, but I'm still thankful that we have a season at all," Greene said.
The future of the pandemic is unknown, and kids still have hopes on what it will be.
"I hope next year everyone comes back and we have a vaccine," Greene said. "It would be so much easier just to have school in general when everyone is in school."
Woodbury Middle School will return to full capacity four days a week starting Nov. 2. Region 14 elementary schools have already been attending school four days a week.
"I think it's smart that they did that," Greene said. "They have less students (than Nonnewaug), and with finally being able to go back into school these kids will have an easier time learning. "
Overall, many Nonnewaug students do want to go back to school. On the other hand, they know that that could put everyone's health at risk. But most students want to be back at school with their friends and teachers in person instead of being stuck behind a screen.