Woodbury Food Bank: Covid-19 and a Time of Need
The coronavirus pandemic has changed the way that local volunteer organizations, such as the Woodbury Food Bank, operate in the community. 
This year, the country saw a 60% increase in people in need of food assistance, according to the Feeding America organization. This surge made it imperative for food banks to find a way to continue their service for those in need. 
The Woodbury Food Bank helps over 150 families in the area, according to Mr. Bob Taylor, president of the Community Services Council of Woodbury. When the Covid-19 pandemic began, the food bank jumped into action to ensure that all clients were cared for properly. 
"Since late March, we have introduced new procedures so that our clients may pre-order the nonperishable foods, produce, meats, household goods and other items best suited to meet their needs," said Taylor. "Throughout our service to clients, we have followed rigorous state and CDC guidelines in establishing our own protocols for cleansing products, wearing masks and gloves… and maintaining proper social distance in all work and interactions with our client families and visiting donors from the community." With these protocols, the food bank has been able to continue serving people through curbside pickup and home delivery.
The Woodbury Food Bank encourages student involvement and offers many volunteer opportunities. Nonnewaug students can help by receiving, processing and stocking food donations, as well as preparing assistance packages and filling daily orders for perishable foods. Students can also do their part by donating non-perishable foods and household goods. According to Taylor, the Woodbury Food Bank is currently in need of hearty canned soups, canned meat and tuna, breakfast cereals, juice bottles and boxes, canned fruits, paper products and personal care items. The food bank is open to receive donations on Wednesday and Thursday mornings, Fridays from 9 a.m. to 2 p.m. and Saturdays from 9 a.m. to 11 a.m.. 
In addition, the food bank greatly benefits from food drives and fundraising events. An easy way for Nonnewaug students to get involved with events like this is to join a school club. "This year, I am asking all of our clubs to have a focus on doing something for our school community or our greater community," said Mrs. Pamela Sordi, principal at Nonnewaug High School. 
There are also clubs specifically for community outreach, such as the Leo Club. The Leo Club's mission is to help communities locally and across the world. "We will be organizing a food drive within the next month or two," said Mrs. Sandy Snabaitis, advisor of the Leo Club and school nurse at Nonnewaug High School. "Boxes will be located outside the nurse's office and LMC." 
According to Sordi, a region-wide food drive is in the works as well. "Right now, we are thinking possibly of some type of school-wide or region-wide food drive, so having every school have a food drive but bringing it all together under Region 14," said Sordi. This is expected to happen leading up to Thanksgiving time. 
It is more important now than ever to come together as a community. "It is about bringing people together to help each other, whether it be food, time, raising money, or awareness about issues," said Sordi. "Together, people can do great things."
Leave a Comment
About the Contributor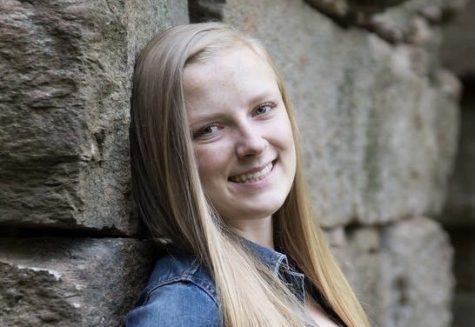 Thayer Daly Lehman, Community News/Ag Editor
Thayer Daly Lehman, a senior from Woodbury and third-year journalism student, is the community news and agriscience editor of the NHS Chief Advocate. She has run for Nonnewaug's track team and is also a member of the National English Honor Society, among others. In addition to writing, her interests include running, skiing, and hiking. She enjoys helping people and hopes to be a nurse in the future. Thayer is looking forward to the year ahead.