Animal Additions to the Nonnewaug Agriscience Department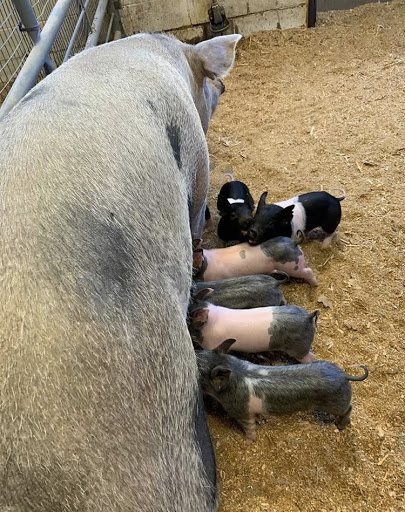 There were a number of new animal additions to the Nonnewaug Agriscience program this summer. 
Several babies were born to NHS animals this year. In June, Lucky, one of Nonnewaug's goats, had a doeling (a baby girl goat), who was named "Sweet Painted Lady" or "Lady" for short. Also,  Papaya, one of the pigs within the large animal lab, had a litter of 11 pigs on September 21st. According to members of the agriscience department, Papaya is doing well and adjusting nicely to being a new momma.
NHS is breeding sheep now, so there will be baby lambs in early spring. One of the cows is bred and due in early spring, and the other cow is currently in the process of being bred and is expected to have a calf in early to mid summer. The department will also be getting some new types of chickens in the spring.
An African spurred tortoise, also called a sulcata tortoise, was kindly donated to NHS from a national group called the TurtleRoom in August. Agriscience teacher Mr.  Michael Lavoie noted the tortoise, which will eventually weigh around 200 lbs., does have a disease. Due to a lack of calcium,  the tortoise's shell is much softer than it should be.
During a typical year, local fairs offer exposure for the 4-H and Ag department, giving them the opportunity to show off the new additions to NHS. Although all the fairs this fall were cancelled because of Covid-19, members of the agriscience program have found different ways through social media to get the exposure they want. Mrs. Jennifer Jedd, Agriscience teacher and Department Chair, said the 4-H students have still been working consistently with the animals to keep them groomed and ready for showing. They hope to be able to show the new animals next year through 4-H and local fairs.