Nonnewaug Field Hockey in the Covid Era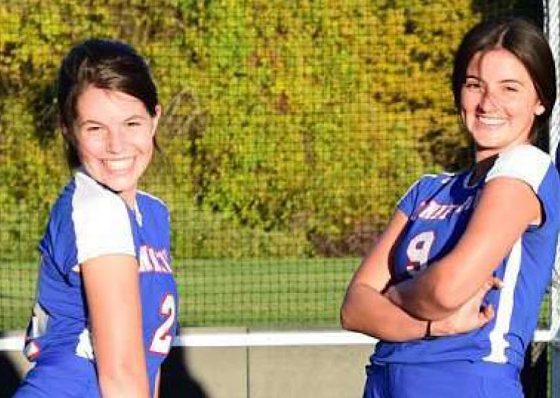 Amanda Taddeo, Sports & General Assignment Reporter
November 3, 2020
Covid-19 has made high school team sports very difficult. The Nonnewaug field hockey team has been lucky enough to be one of the sports that were least affected by Covid-19 restrictions.
To keep players and the school community safe, Nonnewuag has several Covid-19 protections set in place for the 2020 fall season. Currently, all athletes must complete a symptoms checklist, as well as get their temperature taken by their coaches before each practice. Athletes are to remain home if they have any symptoms related to Covid-19 or if their temperature is above 100.4. The only way that athletes can get clearance to play after having symptoms is from a medical appointment or a doctor's note. To date, athletes are managing this all well.
The pandemic and coronavirus-related restrictions have impacted some athletes' decisions to play this year. Lauren Parker, a junior at Nonnewaug, felt uncomfortable while playing field hockey this year due her teammates breathing on her. "Being a player for the Nonnewaug field hockey team my freshman and sophomore year, it was not an easy decision to quit this season due to circumstances regarding the coronavirus. Even though I quit, I miss the team and all of the fun and exciting moments we shared together." 
The girls brought home a 1-0 win from their first away game against Wamogo on October 1st. The Nonnewaug girls lost their first home game on October 5th to Thomaston, the defending Berkshire League Champions, at a final score of 0-7. Unfortunately, spectators were not allowed to watch either games due to Covid-19 policies. As of now, Nonnewuag will be allowing two parents per athlete for outdoor sports home games. Fans can still support the Nonnewaug field hockey team online and can watch on the Nonnewaug Video Channel, which is located on the school's athletic homepage. The games can be viewed within 24 hours of the actual game.
In addition to the spectator policy, Covid-19 restrictions have also affected the team's morale. "Because of the social distancing requirements, it has been difficult for us to fully get to know each other as a team and work together to prepare ourselves for future games," said Isabella Calvano, a field hockey senior. 
The seniors playing sports this year are looking forward to whatever they can get for their senior season. Victoria Canonico, a senior field hockey player at Nonnewaug, said, "I wish things could go back to normal. I know that I will not be able to have a regular season like I have had before in the past years. A couple weeks ago the field hockey team was not allowed to be together as a team. We had to split up into two cohorts… luckily, as of the 21st of September, the field hockey team has been allowed to be together again, which is really nice at least."
Players say it has been a beneficial decision to allow fall sports to play together so they can perform their best this season.