Nonnewaug Football Reacts to the CIAC's Cancellation of the 2020 High School Football Season
The CIAC canceled all Connecticut high schools' 2020 football season because of COVID-19.   
On Wednesday September 9th, over 1,000 players, coaches, and parents went to the capital to protest the canceled 2020 football season. The protesters gave Governor Ned Lamont and CIAC officials a petition with approximately 33,000 signatures, urging that they reconsider the decision to cancel the football season. There are 35 states playing high school football the fall and Connecticut is not one of them. 
Kellen Herman, a Nonnewaug Senior and center on the football team, was at this protest. "I feel like a part of me was taken," Herman said when he heard the football season was canceled. 
According to CIAC officials, the organization took into account every aspect of the game and consulted with governors and health officials from other states.  They eventually decided to cancel the 2020 fall football season to keep everyone safe. 
 The CIAC's decision was a heartbreaking one for the athletes, as well as the coaches and parents – especially parents of seniors. Players were even more frustrated by the news that other fall sports would be allowed to play. "(It's) frustrating. To say that people aren't going to get close enough to transmit COVID during another sports game is just ignorant to me," said Cody Kelsey,  a senior lineman at Nonnewaug High School.
"I think it shows that the DPH and CIAC got lazy when it came to figuring out a safe way for football to be played and decided it's easier to just not have it," said Herman. 
Some players said that without a football season this fall, players' skills will be negatively affected. Certain skills can only be developed by playing other teams. Also, with the cancellation of high school football, players are worried their chances for playing football in college may be weakened because they will have one less season under their belts.
Ben Conti, a junior at Nonnewaug High School and  quarterback last season, said, "I am mad that it was cancelled since it was our first year with co-op." The co-op is a combination between Nonnewaug, Sacred Heart High School, and Kaynor Tech High School football teams.
Kelsey added, "the new co-op meant a lot to our football team because it was a new beginning and a whole bunch of new friendships and other players to test your skills. With the new co-op, it would have helped to get to know everyone this season and have everyone learn the playbook, but that will not be happening (now)."  
About the Writer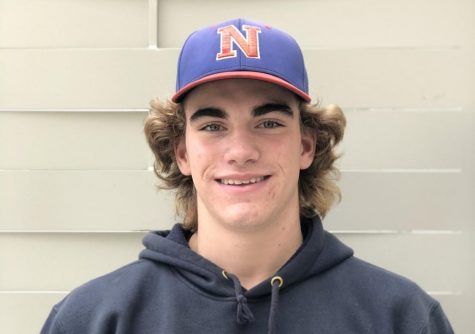 Travis Bambino, Sports Reporter
Travis Bambino, a senior at Nonnewaug, is a member of the NHS Chief Advocate's sports reporting team. In addition to general sports reporting, Travis specializes in news related to Nonnewaug's football team. Travis is an avid baseball player and has been a member of the school's DECA organization.