Update: Biden Projected to Win Memorable Election
The 2020 election has been one for the books. With the coronavirus still spreading and topics under big debate, former Vice President Joe Biden is projected to become the 46th president of the United States after defeating Donald Trump in a close and drawn-out election.
On Saturday morning, the Associated Press and other news organizations projected that Biden, the Democratic nominee, will win the 2020 presidential election. The call came after the AP projected that Biden would win Pennsylvania's 20 electoral votes, placing him at 284 — safely above the 270 mark required for election. Biden was also projected to win Nevada and holds a slim lead in Georgia, while Trump still leads in North Carolina and Alaska. Those three states still have no officially projected winner according to the AP.
The outcome will not become official until each state certifies its vote tallies according to state law and the Electoral College officially casts its votes Dec. 14. Biden would be inaugurated Jan. 20, 2021.
Alexa Burke, a senior at Nonnewaug, had a strong prediction about the outcome of the 2020 election.
"I think that Trump will win because of the support he had this year," Burke said. "If Trump does win, there might be massive outrage and protests."
Cosmo Lovig, also a senior at Nonnewaug, disagreed.
"Biden is going to win because of the polling values and it's unlikely that Trump will gain voters," Lovig said.
Nonnewaug's Rho Kappa National Social Studies Honor Society ran a mock election from Oct. 30 to Nov. 2. The election at school had a 54.1% turnout, with Trump having 52.8% of the votes and Biden having 44.1% of the votes.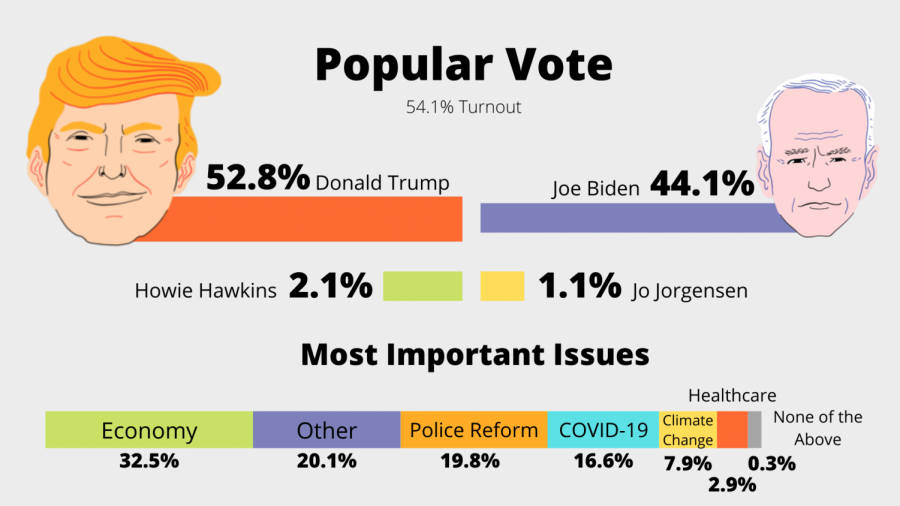 During the Republican National Convention, Republicans nominated President Donald Trump and Vice President Mike Pence for reelection. Trump graduated from Wharton School of Business at UPenn in 1968. Mike Pence graduated from McKinney School of Law in 1986. Trump created a $3.1 billion company while Pence was a Indiana state representative and the 50th Indiana governor.
Trump was able to pass tax cuts, invested $2 trillion into the military, created the Space Force, and appointed 250 federal judges, including three Supreme Court justices. Most recently, the Trump Administration swore in Amy Coney Barrett to replace Ruth Bader Ginsberg following her death on Sept. 18. 
The Trump administration wants to continue to lower taxes while decreasing the country's debt. The country at this point in time is heavily divided and is in much need of a leader with great policies and a great personality.
The coronavirus pandemic is a hot topic this year due to the amount of cases and the effect it has on the world. President Trump put a travel ban on some countries at the beginning of the pandemic, and sent out coronavirus stimulus checks to families and people in need. 
Former Vice President Joe Biden is the 2020 Democratic nominee with his running mate, Senator Kamala Harris from California. Biden and Harris have plans to create a new environmental plan for the country. 
Biden has been working in Politics for the past 47 years, starting as a state senator and being elected as the Vice President from 2009-2016 under the administration of Barack Obama. Harris received her law degree from UC Hastings College of Law in 1989 and worked as a public defender and then as the attorney general for California. 
CNN's final pre-election polling found 52% of Americans would vote for Biden and just 42% for Trump, but it's not just the voters that matter. In 2016, Hillary Clinton had almost 3 million more votes than Trump. In the end though, the electoral votes are the ones that matter. The final tally of electoral votes in 2016 was 306 electoral votes for Trump compared to Clinton's 232 electoral votes. 
About the Contributors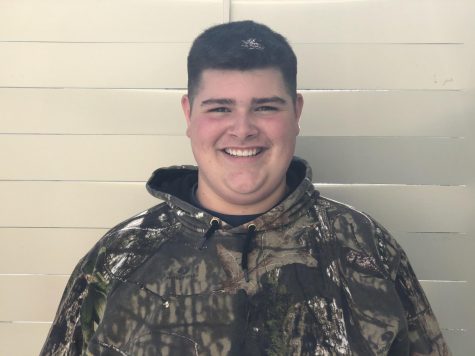 Charlie Stock, Ag/FFA Reporter
Charlie Stock is an agriscience/FFA reporter for the NHS Chief Advocate. He is a junior at Nonnewaug who is actively involved in FFA and has competed in many events. He was a sophomore officer in 2019, and he also serves as the Nonnewaug 4-H Club treasurer. Outside of school, he has two dogs named Jax, an English setter, and Ruby, a black lab. He spends his free time working at Ace Hardware in Woodbury or Paynes Landscaping, and hanging out with friends. He also loves taking his dog on long road trips with no destination in mind.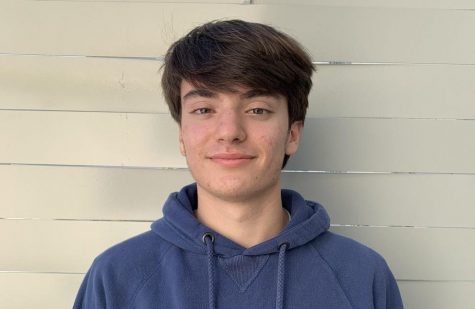 Tyler Lavaway, Digital Editor and Academics Reporter
Tyler Lavaway is the digital editor and an academics reporter for the NHS Chief Advocate. Tyler is a senior and is in his first year with the Chief Advocate. He reports stories as they pertain to the academic scene here at Nonnewaug and also updates the look and content of the website. Tyler is involved in multiple extracurricular activities, including the robotics team, the Math and National Honor Societies, and the Future Business Leaders of America club. Tyler holds an interest in computer programming, which is why he loves working on the website.