BUSHKA: Forget 'Comfort Zone' with 2021 Fashion
A new year means new starts for everything, including new fashion trends. Now is a perfect time to diversify your wardrobe and experiment with clothes that really speak to you. Throughout 2021, more trends will be introduced, but here is an overview and some predictions of what fashion could look like this year.
In 2020, we saw a lot of the colors brown and sage, as well as sweater vests and tennis skirts. Hannah Miller, a stylist and influencer, (@styled.by.han on Instagram) believes these trends will continue to thrive in 2021.
"I can see sweater vests staying on trend, but worn as tighter crop tops with nothing underneath," Miller said. "Everyone has been really obsessed with brown recently, but I can see lots of colorful pattern prints coming in in the summer. The status of current events massively affects trends; brown was worn during times where the world was in a recession, and so I find it interesting that it came back last year. With more hope surrounding current events, I see clothing becoming way brighter and more cheerful."
It is interesting how trends can be affected by the world. Earlier in 2020, we saw a lot of comfy clothes and athleisure becoming more popular. At the beginning of the pandemic, tie-dye sweatpants and sweatshirt sets became a huge trend due to everyone staying home and wanting to be comfortable.  
Miller said that in 2021 she looks forward to wearing bold statement jewelry, like the Nomad gold earrings from pdpaola.com. Miller believes that colors like lilac and sage will be extremely popular during the spring and summer.
This winter, shackets and puffer jackets have risen in popularity. A shacket is basically a combination of a shirt and a jacket and they are perfect for layering and boosting any basic outfit. North Face puffer jackets and puffer jackets in general have made a comeback and a lot of people love wearing them.
Many people believe that some trends from the '70s and '90s will be seen in this upcoming year, including creator Layla Smithles (@laylasmithles on TikTok and Instagram)
"I'd love to try colored eyeliner, and I love the idea of '70s boots," Smithles said. "I can also see bright and colored jumpers are in style."
It looks like this year will be brighter and bolder in terms of fashion. Using Pinterest is a great way to get inspiration for outfits and keeping up with trends that you might want to try. You should always wear clothes that make you feel confident and comfortable, so do not be afraid to branch out and try new things. 2021 is a great time to step out of your comfort zone.
This is the opinion of Kamden Bushka, an arts and entertainment editor for the NHS Chief Advocate and a junior at Nonnewaug.
About the Contributor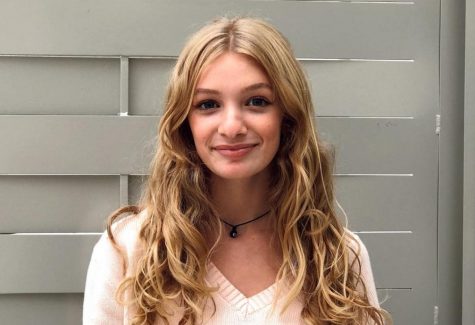 Kamden Bushka, Arts/Entertainment Editor
Kamden Bushka is a junior and a third-year journalism student. This is her second year as the arts and entertainment editor of the NHS Chief Advocate. She enjoys writing about fashion, movies and music.