New Hallway Mural to Greet Returning Students
WOODBURY — When students walk through the main entrance at Nonnewaug High School, they will now find a mural in the auditorium lobby.
Installed in December, the mural contains pictures of Nonnewaug students engaged in all of the different activities that make Nonnewaug special: academics, athletics, agriscience, arts and after-school activities.
A mural was a planned part of the renovation project on that wall, but the design of the mural changed over the years. Principal Pam Sordi looked for examples of murals at different schools and companies that were used for inspiration.
"We wanted something that represented our students and what makes us special as a school community," said assistant principal Taryn Fernandez.
The mural was created by a graphic designer from SLAM, the company which designed the renovation project for Nonnewaug.
They created a folder that Sordi, Fernandez, and digital arts teacher Genna Riggi filled with many photos to choose from, and students provided their thoughts on what should be included and the size of the photos. After reviewing the feedback, they decided that the mural would be black and white with the colorful Chiefs logo.
Fernandez concluded: "We felt that black and white pictures were timeless and it also brought attention to what unites us all … being Chiefs!"
About the Contributor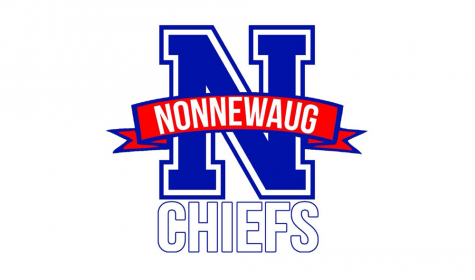 Mitchell Brooks, Reporter
Mitchell Brooks is a general-assignment reporter for the NHS Chief Advocate. He is currently a senior at Nonnewaug and has not had any past experience in journalism. Mitchell hopes to inform all students of events and happenings at Nonnewaug that he may not have heard of previously in hopes of helping everyone feel included in these future events. He wants to recognize things that aren't noticed very much. Mitchell grew up in the woods of the little town of Bethlehem with his two parents and four siblings (with a very hectic house at times). Despite that, he has grown up very family-oriented, and has always been a very social person, spending almost all his time out with friends and away from home. Mitchell hopes to utilize these communication skills he's practiced throughout his life with many people in the business field, and hopes to help others as much as he can in the future.