Total Package Earns Canonico All-State Field Hockey Honors
WOODBURY — Victoria Canonico began field hockey with no knowledge of the sport whatsoever during her freshman year. However, she learned quickly and grew as a player.
Now as a senior, Canonico wishes she had more time because she believes that this year was her prime year as a player.
Playing field hockey has brought out the best in her and has given her the ability to flourish. Canonico has become attached to the sport because she genuinely found a love playing field hockey. Her love for the sport drives her to be the best player she can be at all times. 
She chose field hockey as a sport willingly, without knowing what she would become. Her intentions when she first started playing was to just be involved in a sport. Little did she know, Canonico is a natural when it comes to playing field hockey. Throughout her years of playing, she has grown so much as a player, even exceeding her coaches' expectations. 
"A valuable lesson that Coach [Beth] Tarby followed by was that the heart has to be in the game," Canonico said. "It's not just skills on the field that matter; there has to be heart."
Canonico's teammates describe her as an extremely skillful player. At the forward position, she is fast and has good endurance, which is important for her to position herself to score. She also has great stick skills that allow her to carry the ball through opposing midfielders and defenders to get the ball to the goal. In addition, she keeps a positive outlook for games and cheers her teammates on when they are down. There's not much Victoria lacks on the field.
"Victoria is an incredible forward," senior co-captain Lola Taylor said. "She has an ability to always be in the perfect spot to get the open pass and carry it down the field to get to the goal. She is great to work with because she knows her position really well and is always open for a good pass."
Throughout this season, Canonico scored five of the team's six goals. On the other goal, Canonico assisted sophomore teammate Madi Dannenhoffer with senior co-captain Stephanie Disaro.
As a result of all her hard work, Canonico was selected for All-State Second Team honors.
"This last season in field hockey as a senior has made me realize that this is my last chance to give my all in this sport," Canonico said. "Knowing this was my last season made me determined to work hard every practice and game, as did my teammates, working 'til the last second on the board."
About the Contributor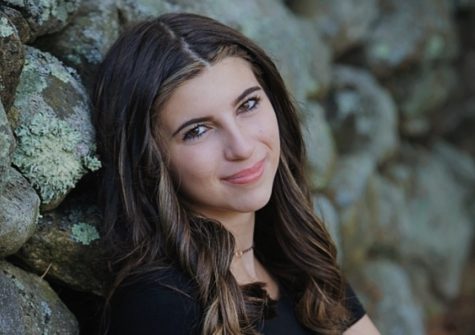 Amanda Taddeo, Sports Reporter
Amanda Taddeo is a sports reporter for the NHS Chief Advocate. She is a senior who covered the field hockey team during the fall season. Amanda is curious how the pandemic will change high school sports programs, and she's looking forward to writing about these changes. While playing volleyball in the midst of this pandemic, Amanda learned that it can be a difficult experience and she missed seeing her fans, friends, and family coming to games. With the new NHS Chief Advocate website and the help of all the reporters and editors, she hopes the organization can make it a little easier for everyone to read watch games this year.