With No Hoops, Future Uncertain for 'Pride in the Tribe'
Owen Brown, Assistant Sports Editor
January 4, 2021
WOODBURY — With COVID-19 still raging and high school winter sports on hold until at least Jan. 19, Nonnewaug fans have one question: Will they get to cheer on their basketball teams this season?
Unless a miraculous change happens within the next few weeks during the pandemic, chances are that no season will be played. Even if there is a shortened slate of games, the chances of fans even being allowed to attend games would be slim to none, as the coronavirus can be easily spread with fans being inside a crowded gymnasium.
Still, nobody knows what the future holds for Nonnewaug sports, let alone the pandemic. This was not always the case. Just last year, Nonnewaug finished its renovations with a brand-new gymnasium. To some, it represented a new era of Pride in the Tribe.
Kellen Herman, a senior and Chiefs superfan, felt multiple factors contributed to the new spirit throughout the school.
"I think it was a combination of a few things: a new focus on school spirit from faculty, successfully ran pep rallies that spiked some competitiveness amongst grades in the school, and a great spirit club," Herman said.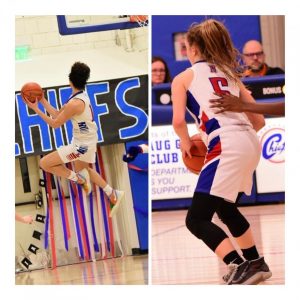 Last season, the boys basketball team finished with a 14-9 record (10-4 BL), which was good for second in the league. Led by coach DeVonne Parker and All-State forward Jon Khazzaka, Nonnewaug made it to both the BL championship game, where they lost to Wamogo, and qualified for the state tournament before the CIAC cancelled it due to coronavirus concerns. 
Before last season, Khazzaka knew it was going to feel different for him, as his play and experience allowed for him to step up. 
"This season was different mostly because of my role on the team. I had to become a leader rather than a role player," Khazzaka said.
In addition, the girls basketball team finished with a 17-3 record (11-1 BL), winning the BL regular-season and tournament championships. Led by coach Adam Brutting and All-State guard Ashley Hennessey, the team also qualified for the state tournament, losing in the second round against Hillhouse.
For Hennessey, the chemistry and dedication of the team led to their success.
"We all worked together on our skills outside of games and practices which reflected on how well our team chemistry was," said Hennessey. "Although it was important for us to focus on our individual goals as a player, we made sure to put emphasis on the team aspect."
With all of the success and school spirit both teams contributed, Nonnewaug students and parents could be found crowding gymnasiums, not just at Nonnewaug, but across the Berkshire League. Led by Chiefs superfans Annie Montero, Marley Baker, Austin Bedard, Gabe Brochu, Travis Bambino, Ryan Blanchard, and Herman, the Pride in the Tribe was brought back to life.
From color-out games, to the ESPN table, to dressing up as refs, and to the iconic four-foot metal spoon, the spirit at Nonnewaug looked bright as ever, and would continue that way for years to come.
Brochu acknowledged how thankful he was to be a part of the change, and reflected on how attending last season's games changed his outlook on the school spirit for both himself and the rest of the fans.
"I never really went to games prior to last season and neither did any of my friends," said Brochu. "So I think people really started to show up because we told everyone how fun it would be." 
In addition, he shared how some of those ideas went from a fantasy into a reality.
"Not much planning went into the ESPN table," said Brochu. "We just thought it was funny so we got a table, had a poster made, and had people show up to my house in suits. Regarding color games, we would just send a text in a group chat and people would post it on social media."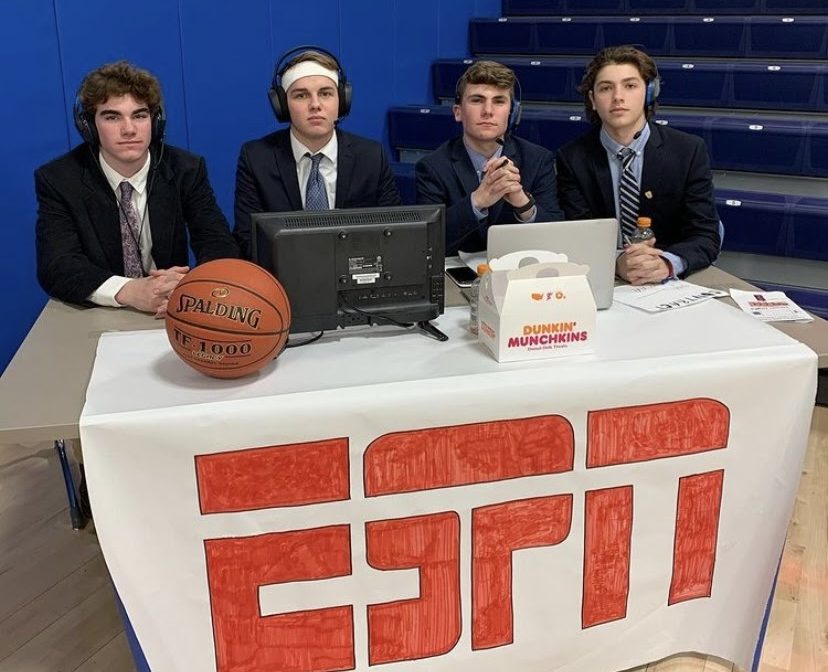 The dedication of the Chiefs superfans seemed to result in better play on the court by the Chiefs, as both Khazzaka and Hennessey agreed on how much the fans helped them as players.
"Mentally having fans who support you at every home game and even away games makes me want to perform at my highest," said Khazzaka.
"The fans and spirit at Nonnewaug played a key role in our team's success," Hennessey agreed. "Whenever I went into a slump and couldn't hit any shots, the fans' enthusiasm would always motivate me to keep going."
But alas, the coronavirus made its way to the country, and that spirit seemed to have suddenly died out.
For both players and fans, specifically the seniors, knowing they could have possibly played and watched their last game is an idea they hope does not turn into a reality. However, despite all the negativity that seems to be going on in the world, Nonnewaug is still finding ways to stay positive and keep the spirit alive.
"Nothing can replace it," said Brochu. "But my friends and I are going to look for other ways to maintain last year's school spirit in the absence of basketball games."
"Even if there is no season this year, I wouldn't look at my high school career being unfulfilled," said Hennessey. "Although I would miss the team and coaches, we had an amazing year last year and I will always cherish the moments we made together."
Indeed, there were many moments throughout both seasons that will forever be engraved in the minds of Nonnewaug students.
"My favorite moment during the season was winning at home against Shepaug, just because of how many people came to support us," said Khazzaka.
Herman agreed: "When we spiked the court at the Shepaug versus Nonnewaug basketball game."
Championship success still resonates with Hennessey.
"My favorite moment would definitely have to be when the buzzer went off at the end of the Northwestern championship game," said Hennessey. "The whole fan section ran to the floor along with the team and we all hugged each other in the middle of the court, and cutting down the net on Northwestern's court felt so liberating."
Khazzaka acknowledged the difference in school spirit made him and his teammates increase their appreciation for playing for the Chiefs.
"We all loved the amount of support given to us by the fans," Khazzaka said. "It makes us want to play better and win for the school."
Despite getting cut short, last winter's basketball seasons will always be one of, if not the most beloved and successful season in the history of the high school.
While last year was a success, many are disappointed about the impacts of the COVID-19 pandemic, depriving them of an activity that created unity and spirit among students, parents, and faculty.
However, despite senior fans knowing they might not get to watch their teams play ever again, they remain hopeful that the traditions and spirit will continue on for generations to come. 
Brochu's hope is that these games will create experiences that can teach them more about themselves.
"I would tell [future students] to not take school spirit for granted," Brochu said. "In a sense, it can prove to have a profound effect on who you are and will become."
For Herman, the message is plain and simple: "Have fun."
Players hope the teams will always be in contention for both BL and state championships, with the fans backing them throughout the process.
"I hope that Nonnewaug basketball continues to compete and that our support in the team is always at its highest," said Khazzaka.
"We have a team full of such talented and hardworking players so I hope I get to spend my last year with my friends I've grown with for these past few years," said Hennessey. "Although we may not have fans this year in the stands, I know in the years to come that the 'Pride in the Tribe' will only grow."
No matter what the future holds for Nonnewaug, one thing remains certain: As Nonnewaug's rendition of our national anthem goes, "O'er the land of the free and the home of the Chiefs."