Baseball Team Thankful for Winter Training, Hopeful for Season
WOODBURY — Nonnewaug's baseball season is on as of now, and the Chiefs have started winter training.
Winter training is a big part of the baseball season for the whole team, preparing players for gametime. But it really helps pitchers and catchers to get them in good condition for the season.
Ryan Tomkalski, a captain and the starting shortstop says this offseason preparation is especially important this year.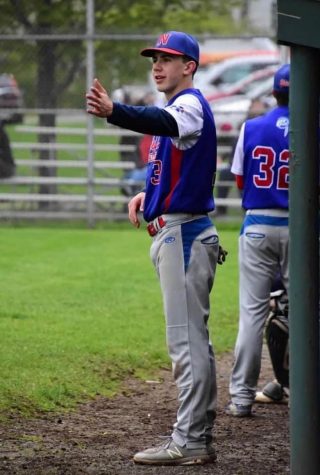 "I believe that COVID has a negative impact on all players across the state," Tomkalski said. "Players need time to prepare for the season [and] pitchers need to start throwing and getting their arm ready before the season starts. If we are not able to have winter training, it could be a rough start to the season and injuries could potentially be a problem."
COVID-19 has affected everyone in many different ways, but for athletes it has been different. It has taken away seasons and training, which are a big part of their lives. Nonnewaug's baseball team hasn't played a game in almost two years.
Owen Brown, a senior first baseman and outfielder, said he's glad the team has been able to start winter training.
"I am very grateful that, despite the pandemic going on, we still have the opportunity to train for the upcoming season," Brown said. "I definitely look forward to meeting new teammates and developing a team chemistry that will help us with winning games and hopefully bringing a championship back to Nonnewaug. I feel really good about the season. Although we've lost many players since the run we made to the state [quarterfinals in 2019], we still have a lot of talent on this team. This season definitely will be the hardest one I've ever had to play."
Everyone on the team is grateful to have a season and be able to get back on the grind. Since the team hasn't played together in about two years, the team will face some challenges. 
"I think one of the biggest challenges is going to be COVID, obviously, and how it will affect our team's performance is heavily dependent on whether or not a player is available or not," said senior second baseman Gabe Brochu.
Practice will be key for this team to create chemistry among everyone. Many players have not been on a field together, so the team will have to develop together as one. Seniors say they are lucky to have a senior season.
"I'm excited to get back on the field and have a few games, even if it isn't as many as a regular season," senior first baseman Chris Velleca said.
"I am super thankful and happy we have a season as of right now, and [I] hope that it stays that way," Brochu said. "It is our responsibility as members of the team to do our best to prove that we can have a safe season."
Baseball is a sport that brings people together and gets players' minds off everything else going on in the world. It just makes everything feel simpler.