Masks, Return-to-Play Protocols Allow a Hoops Season
WOODBURY — Nonnewaug's basketball teams must follow new rules because of COVID-19 that are changing the ways the Chiefs usually play out the winter season.
The school decided to allow the basketball season to start after the return to in-person learning Jan. 19. But in this process, the school, along with the entire CIAC, had to make some changes. 
Nonnewaug held a winter basketball meeting Jan. 19 to talk about the new procedures for basketball. Each coach and athlete received a four-page packet and another two-page packet of information on the COVID-19 guidelines and rule changes for the 2021 winter season. There were still many of the same rules from before COVID-19, but there were many new changes that were shockingly new.
Here are some of the new rules and changes that were included in the packet:
"All basketball participants must wear a closed fitting face mask that covers the nose and mouth during play, including contests."

"A one-minute mask break will be instituted at the first stop of at or after the four-minute mark of each period. During the mask break, players will maintain greater than six feet of distance and may get water."
"A graduated return-to-play protocol for a positive athlete after COVID can begin once an athlete has been cleared by a licensed medical provider and feels well when performing normal activities of daily living. The progression should be performed over a seven-day minimum course."
Packets were also distributed to parents or guardians, who had to sign a waiver stating that they were aware of the procedure by any chance that their son or daughter tested positive for COVID.
T.J. Brighthaupt, a freshman basketball player, had mixed feelings about the changes, which also include the prohibition of fans in Nonnewaug's gym.
"I believe that this has both ups and downs," Brighthaupt said. "Good because they are trying to help the kids get a full season and stay healthy, but bad since you have to wear masks during games and no fans for energy."
Brighthaupt believes this change will affect the players' performance on and off the court.
"The rules will affect people because since you will have to wear masks, it will be harder for the team to breathe than it would be in a regular game," Brighthaupt said. "If I had to be honest, nothing in the past year has been normal."
About the Contributor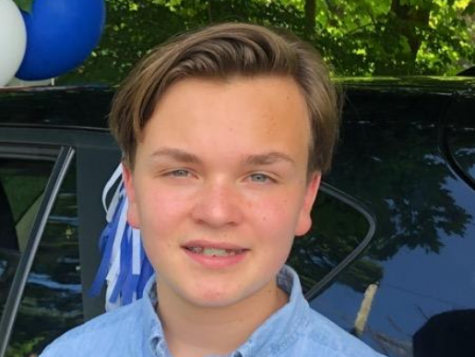 Carson Buck, Reporter
Carson Buck is a general-assignment reporter for the NHS Chief Advocate. He is a freshman from Woodbury who is interested in sports and athletics. He also has a dog named Shadow. Carson joined this journalism class because it sounded interesting and he thought it would be a great experience for a freshman at NHS. His previous writing experience has included sports opinion essays. Carson looks forward to the opportunity to work on sportswriting, which is one of the things he wants to do when done with college.