Seniors Frustrated over Contact-Tracing School Closures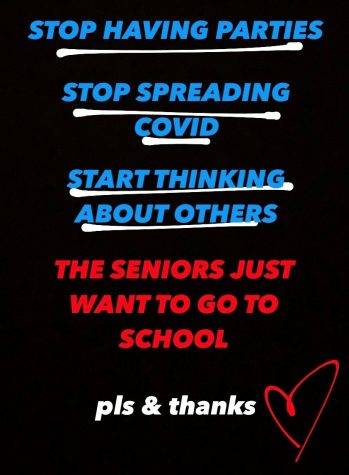 WOODBURY — Nonnewaug administration was forced to carry out contact tracing both Thursday and Friday after three positive COVID-19 tests.
Multiple students must quarantine because they have been exposed to someone who tested positive for COVID-19. 
NHS students — specifically seniors — have not taken this news lightly. They have speculated about what could have possibly caused the minor outbreak, but more importantly, they are expressing how unfortunate it is that some of their last days in school have been taken away once again.
Sam Thompson, a Northeastern-bound exemplary student, gymnast and volleyball player, feels strongly about what's happened.
"As a senior, I was really hoping to have a memorable last year in high school," Thompson said. "It feels like some people aren't making any effort for this to occur, [so] I hope people are having fun at their little parties."
This seems to be a prevalent mindset among seniors. Unlike the class of 2020, which lost its prom and a normal graduation, the class of 2021 has sacrificed some of the most traditional and memorable events.
"As a senior, so much has already been taken away," senior cheerleader Kate Pagnamenta said. "We weren't able to have homecoming, pep rallies, and regular lunches and classes with all of our friends. When I hear the calls we get late at night saying, 'School has been cancelled for contact tracing,' it's awful. I've never wanted to go to school more."
"
When I hear the calls we get late at night saying, 'School has been cancelled for contact tracing,' it's awful. I've never wanted to go to school more."
— Senior Kate Pagnamenta
Seniors are not alone in their grief. In fact, many staff members, including assistant principal Taryn Fernandez, empathize for the senior class.
"To the seniors, many of whom I had in class for two years, I know that this is not the senior year you imagined, and you are missing the celebration of school spirit and camaraderie that you have worked so hard to build while at Nonnewaug," said Fernandez, who taught many current seniors in Spanish earlier in high school. "If it were in our power to wish this all away for you, we absolutely would."
Some seniors took to social media to address these feelings, including one Instagram story post that read in part: "Stop having parties, stop spreading COVID, start thinking about others. The seniors just want to go to school. [Please and] thanks." 
This post circulated among upperclassmen as other seniors reposted the Instagram story. Many understand the dissatisfaction and frustration from seniors.
On the other hand, some juniors, like volleyball player Kayla Zottola, are also frustrated by the outbreak despite following all precautions.
"As someone who did not attend any functions or parties and still got exposed because of school, I am kinda frustrated," Zottola said.
Zottola said she doesn't understand how COVID-19 is spreading among students, which adds to the frustration.
"I wouldn't put the blame on parties because it's the people who go to our schools anyways, so it would have been spread at school regardless," Zottola said. "Students put themselves at risk going to parties as much as they do going to school — both of which you have a choice."
However, Fernandez and Region 14 administration believe the school's precautions prevent COVID-19 transmission during the school day, and she hopes students will continue to be responsible.
"At Nonnewaug, we hope that with everyone following the measures we have in place in the school building and on busses, transmission of COVID from one person to another inside the school building will not occur," Fernandez said.
"
If it were in our power to wish this all away for you, we absolutely would."
— Assistant Principal Taryn Fernandez
Everyone — freshmen, sophomores, juniors and seniors — will come to a point where they can realize that students from every grade and every teacher are going through the exact same thing.
Yes, some people, like the millions of seniors graduating in 2021, have gotten the short end of the stick. However, there's no saying that it won't happen again to the class of 2022. There is really no telling when this will end, so it's best for everyone to wait patiently and calmly — with consideration towards others but above all consideration to oneself.