Spirit Week to Benefit Kostkas' Charity Campaign
WOODBURY — Next week, Nonnewaug junior Hannah Kostka and senior Meghan Kostka will lead a spirit week at school to raise money for their campaign, The Kostkas Continue Katie's Quest for a Cure. The sisters began their work as part of the Leukemia & Lymphoma Society's Students of the Year Campaign. 
"The Student of the Year Campaign is a six to eight week initiative in which nominated high school students, or teams of 2-3 students, participate in a fundraising challenge to benefit The Leukemia & Lymphoma Society," according to LLS.org. "Candidates raise money in honor of a young, local patient hero who is battling or in remission from a blood cancer. The candidate or team who raises the most money at the end of the program is named Student of the Year for their local chapter."
"Last year, [math teacher Tricia] Brown's daughter, Katie Brown, ran her own campaign and did a red-out at Nonnewaug, which was a great success," said Meghan. "After that, Ms. Brown nominated Hannah, and then Hannah asked me to be her co-candidate, to carry on the legacy of her daughter and her campaign."
Meghan continued: "Hannah and I are doing this for Katie, who is a leukemia survivor, as well as in memory of our Aunt Toni, who passed away from leukemia."
Their goal is to raise $10,000.
"LLS uses the funds they get to support cancer research, spread awareness, and even help individuals and families suffering from cancer themselves," said Meghan.
The NHS community can help by participating in the spirit week from Feb. 8-12 and by donating to the campaign through the collections at school or on the Kostkas' online fundraising page.
On Monday, students will dress in the color assigned to their grade level for a "color wars" competition: Seniors will wear black, juniors will wear white, sophomores will wear green, and freshmen will wear blue. Tuesday will "twisted twin" day in which students are encouraged to dress up as a teacher.
Thursday will be "generations" day — seniors will dress up as senior citizens, juniors as middle-aged parents, sophomores as college frat kids, and freshmen as babies. Finally, Friday will be a red-out, in which everyone at Nonnewaug is encouraged to wear red.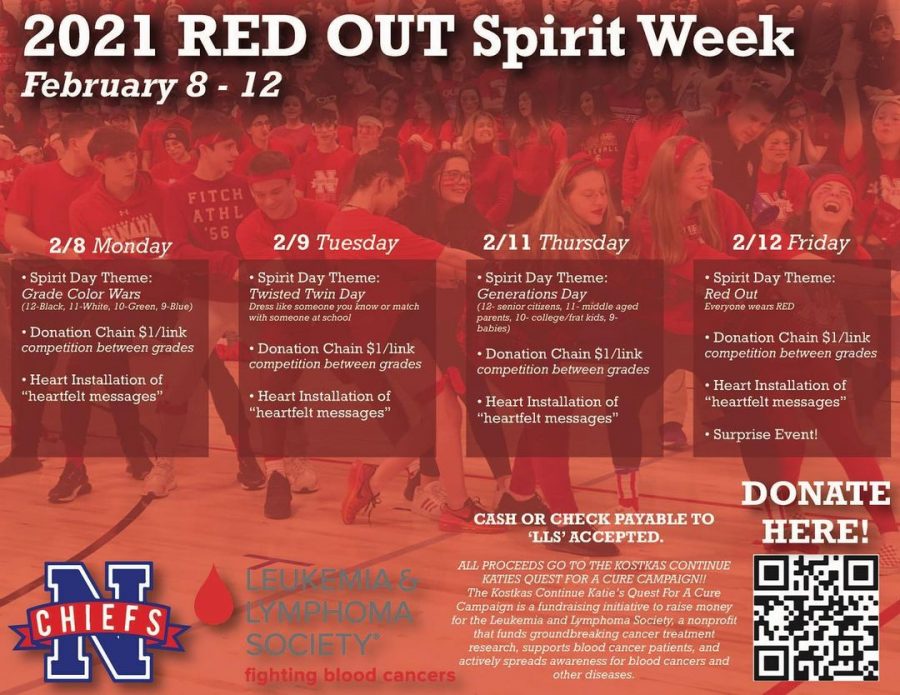 "We are hoping that the red-out remains a tradition at Nonnewaug in the coming years. We all miss the feeling of school spirit the entire student body felt last year, and we are really trying to bring it back," said Hannah. "The purpose of the red-out is not only to do something good for blood cancers, but to bring the community together again."
Hannah continued: "Other schools from around the area are also participating with us, and we are encouraging everyone to get their family and friends to join in and wear red on their own."
To follow the Kostkas' journey, their Instagram is @kostkas.continue.katies.quest.