Students, Teachers Glad to Leave Distance Learning in Dust
WOODBURY — It's safe to say that an average school day looked almost the same for each and every student for most of the last couple of months — wake up, log on to school, and watch classes from a screen.
Sadly, for students less fortunate than those at Nonnewaug who cannot attend school in person, or for those who have opted to remain home, it's what they do every single day. Before Jan. 19, all of Nonnewaug re-experienced that never-ending cycle of disconnection and repetitive online school days.
Nonnewaug senior Dan Paganelli explained what his day was like from when he woke up to going to school right from his room.
"I wake up and log on — sometimes it takes a few tries to join the [Google] Meet," Paganelli said. "Once I'm finally in class, it can go one of two ways: The class could be interactive, with online learning games and activities that actually make class time go faster, but some days it's very slow and can be difficult to enjoy."
For someone like Paganelli, who is admired by many, it's difficult to keep a connection with those he cannot see or talk to in person. 
"None of us are strangers to online calls with peers or teachers," Paganelli said. "At first it was interesting to experience, but after a while it got boring."
The lack of motivation seemed to be growing ever so slightly each day during the time when schools were closed. The motivation was lost the moment students woke up for school. The regular mornings where students could pick out an outfit with a clean pair of shoes were out the window.
Luckily for Nonnewaug students, they got to experience the first day of school once again. Nonnewaug opened its doors for both cohorts Jan. 19, returned to five-days-a-week in-person learning this week, and the basketball teams have started a shortened season.
Second-year teacher Kyle Brennan is glad students are back.
"It was a unique experience," Brennan said of all-remote learning. "You miss consistent human interaction when you're sitting in an empty classroom for seven hours a day. There's no replacement for speaking to a live classroom everyday. The main reason we teachers went into teaching is because you enjoy the everyday face-to-face interaction."
It's safe to say that the teachers are just as happy as, and maybe even happier than, the students to be back in-person learning. 
This could be the first of many doors to open for Nonnewaug. Granted, some students, especially those who are in their last year of high school, can never be fully satisfied, but the community at Nonnewaug is optimistic that with the right precautions, the school can offer upperclassmen such activities as prom and a normal graduation so that they can end their year having those experiences.
About the Contributor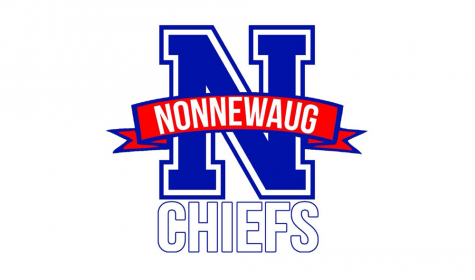 Sierra St. George, Reporter
Sierra St. George is a general-assignment reporter for the NHS Chief Advocate. As she entered her
senior year, she wanted to join journalism because it was interesting to be in a class that forced students to be involved in current news -- not just at Nonnewaug, but from all the towns that surround Woodbury. She also appreciates the opportunity to watch and report about the sports played at Nonnewaug that she's sure fans miss watching. Sierra is interested in majoring in nursing/pediatrics in college, so although she's not sure journalism is something she'd like to pursue once she graduates from Nonnewaug, writing will always be something she loves and she's so glad to do it while among friends.