McGee Key to Chiefs' Success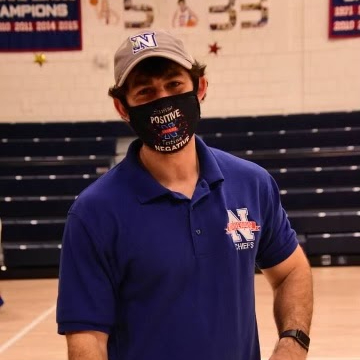 WOODBURY — In a year filled with pandemic-fueled disappointments for student-athletes, Sean McGee, Nonnewaug's athletic trainer, has been a source of positivity and stability for the Chiefs. 
McGee, who once brought his three labrador retrievers to practice, is known around the Nonnewaug community for his outgoing and fun-loving personality.  
"Sean is very charismatic and loves participating and interacting with the athletes," said Mia Higgins, Nonnewaug senior athlete. She added that NHS athletes are "so thankful" to have him as a part of the community.  
McGee has played an important role in keeping NHS athletics going strong despite the ups and downs of the pandemic era. 
Anna Culkin, a Nonnewaug junior athlete, said: "Sean has helped us have a season this year. He takes care of COVID-19 checks before every game. I am very grateful that we have a trainer who is so willing to help out our team in any way necessary."
McGee loves his job and says that his "absolute favorite part of the job is knowing that I am a Chief."  
"In some ways I feel I am part of every team here at Nonnewaug. Just to be around motivated student-athletes is a dream come true. Whether it is practice, a game, or a virtual workout, I really feel the appreciation from everyone in the Nonnewaug community," he said.
McGee attended Colby-Sawyer College in New Hampshire, graduating with a bachelor of science degree in athletic training. He also studied abroad in Perth, Australia, at Murdoch University.
"In Australia, I was a sports trainer for a semi-professional Aussie rules football team," said McGee. 
He enjoys spending his free time taking hikes and traveling. He has completed some of the hardest hikes in the U.S., including The Presidential Traverse and the Pemigewasset (Pemi) Loop in New Hampshire and the Kalahala Trail in Hawaii. 
"We have had some good athletic trainers at Nonnewaug in the past, but what sets Sean apart is his willingness to consistently go above and beyond what is normally asked of someone in that role," said Nonnewaug teacher and coach Toby Denman. "He does little things like staying late to make sure the bathrooms down by the field are locked up, helping to put corner flags away, and being the last one up from the field to lock the gate." 
Denman continued by praising McGee's knowledge of sports. McGee is a former three-sport athlete, and he sometimes jumps into drills if needed. He was especially helpful during the fall seasons, as soccer was McGee's main sport.
In addition to soccer, McGee participated in numerous sports during his high school career, including track, baseball, tennis, and even pond hockey. 
While McGee is an experienced athlete, he might not be your first choice for a game of pick-up basketball. As Culkin playfully added: "Sean's very nice, but he's not very good at basketball. He joined in some drills, and it was not his best work."