Principal Just One of Sordi's Many Hats
WOODBURY — Most people know Pam Sordi as the principal of Nonnewaug High School. However, that is just one of the many hats she wears — add being a counselor, educator, mom-extraordinaire, and so much more. 
Sordi is a lifelong Connecticut resident. She grew up in Terryville, graduating from Terryville High School in 1984. She then attended the University of Connecticut at Storrs, from which she graduated in 1988.
She has had a long career in public education.
"I have been able to use many varied experiences in education at all grade levels to help me become a better leader," said Sordi.
Her first job was working as an elementary school teacher at West Hill School in Rocky Hill. After two years there, she accepted a job at Torrington Middle School, where she worked for about 13 years as a math and science teacher. She then pursued a master's degree in school counseling and became a counselor at TMS for around two years.
In the 2002-03 school year, she joined the Nonnewaug faculty as a school counselor and eventually became the head of the counseling department. In 2015, she became assistant principal at Woodbury Middle School before coming back to NHS to take over the assistant principal position in 2018. In 2019, she was named principal at NHS.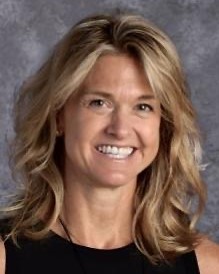 "I have had what I consider a very unique and somewhat unusual situation in that many of the students in high school now I worked with at Woodbury Middle School," said Sordi. "Having worked with students in sixth grade and watching them grow, mature and develop into the individuals that they are upon graduation has been amazing."
Coworkers describe Sordi as hard-working, open-minded, and easygoing. 
"She cares about the students and staff and she appreciates what everyone contributes to the culture of the school. She is also a good leader because she is a good listener," said science teacher Toby Denman, who began working with Sordi in 2002. "Sometimes she needs to make tough decisions, but she is willing to listen to differing opinions and take them into account."
"Things like that go a long way in building trust between teachers and the administration," he continued. "I truly believe that the overwhelming majority of the teachers feel as though our current building administrators have our backs. Because of that, people are willing to help out beyond their job."
"She is very willing to listen to what other people have to say and her decisions are always very well-informed. She is also easy to communicate and work with," added guidance counselor Chris Maclean, who has worked with Sordi for 12 years. "Overall, she is extremely dedicated to Nonnewaug and Region 14. She always does what is best for students in the end." 
To her children, Cristina (22) and Nick (20), Sordi is known as "the best mom ever."
"She is always thinking about others. She'll stop what she's doing in the middle of the day and listen to me for hours whenever I'm having trouble at school," said Cristina. "I know it's not just me; it's everyone around her. She's always there for people to lean on."
Some of her favorite memories with her mom come from spending time together at the lake.
"We have a lake house in New Hampshire and that's her favorite spot to vacation. We go to Lake Winnipesaukee," she explained. "Last summer, it was just me and her, which is unusual because usually my brother and my dad are there, too. We went to dinner, walked around, and just got to relax."
Sordi enjoys lake activities such as boating, swimming, kayaking, and relaxing on the dock. Cristina says that her mother is also a very talented water skier and that she is even able to slalom ski, or balance on one ski. 
Sordi is also known for her amazing cooking skills.
"She's amazing at making soups," said Cristina. "She makes chicken noodle soup, pasta fagioli, bean and ham soups (those are my favorites), and clam chowder."
"It was always funny to see what she had at lunch. She always combined something with a salad that you wouldn't predict would be in there," said Maclean. "One time, she had a green salad with an apple pie in the middle."
In addition, Sordi is a huge animal lover. 
"She has always taken care of my rabbits with me; I have one of my rabbits here with me at school and five other rabbits at home, so she and my dad feed them, water them, and take care of their nails," said Cristina. "We have also always had dogs. We have two dogs at the moment and she does all the grooming for them."
She continued: "We have two horse stalls in our barn at home and when I was younger, we had two miniature ponies that lived with us for almost a year."
When Sordi is not at school working or at home spending time with her family and pets, she can be found running.
"I exercise regularly. I like to run because that's my time to think things through," said Sordi.
Cristina added: "She's a great runner. She'll try to tell you otherwise, but she is really so diligent."
Sordi truly does wear many hats — principal, counselor, teacher, mother, water-skier, cook, animal lover, and runner — so it is no wonder why so many people look up to and admire her. 
"I think she's a very strong and confident woman who is definitely my role model in life," said Cristina.
According to Sordi, in her time spent working with students, she has learned the value of patience, forgiveness and growth. Her advice to students is "to enjoy each day, take one day at a time, don't lose sight of your goals for the future, and be sure to learn from the past."