Alright! Ready? 1, 2, 3, Mr. Green
WOODBURY — Many Nonnewaug students recognize Mr. Green by his unique teaching style and football-sized calves, but did you know that he occasionally bikes to school and has been a teacher at NHS since 1998?  
The school's renowned Health/PE teacher, wrestling coach, and spicy-pepper-provider, Dave Green has been making a positive impact on the Nonnewaug community since 1998. Before Mr. Green was sharing his knowledge and energy at NHS, he taught at New Britain Middle School. Prior to becoming an educator, he was an ironworker.
Mr. Green grew up in Blairstown, New Jersey, on a 50-acre farm. He attended a regional high school that he described as, "pretty similar to Nonnewaug with around 500 students." 
"There was less to do back then compared to now, so we were able to focus a lot of time into what we were doing," he said.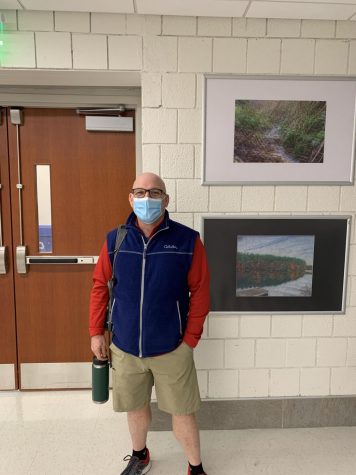 Mr. Green studied Physical Education at Springfield College. He was a wrestler there for four years, and he coached there for an additional two years. He was a two-time captain and placed in regional tournaments all four years. 
To pay for his schooling, Mr. Green picked up ironworking and continued it in the summers.
When asked to highlight a memory from his past that has impacted his life, Mr. Green recalled a walkout he attended while in the 7th grade to protest a teacher getting fired. When he returned to class after the walkout, he was nearly a half an hour late and was handed a test he had forgotten about. He said that this made him realize, "If I'm making choices, I have to be able to live with the consequences."
Students at Nonnewaug say Mr. Green is a favorite teacher, and they are in awe of his teaching style and infectious energy. His catchphrase, "Alright! Ready? 1, 2, 3… ," is a well-known and loved slogan at NHS.
"He never stops moving, and he's not a teacher that makes us sit around and read," said Lola Taylor, a Nonnewaug senior. "We are always active and doing different things." 
Mr. Green dedicates a lot of time outside of school to the Nonnewaug Wrestling Team. He has taught many students crucial life skills through this sport.
Aiden Cooper, Nonnewaug sophomore, said,  "He pushes us really hard in practice while having fun at the same time."