Student Spotlight: Baker is a Star Student-Athlete
WOODBURY – Five year-old Marley Baker stands under the crossbar, as backup goalie, wearing her oversized red jersey and bright pink cleats. Hating to play goalie, she was more nervous than ever. Baker's main position was forward, as she was meant to be a part of the rush towards the opposing goal. Now, 11 years later, Baker is a star student-athlete as a center back for the Nonnewaug girls' soccer team. 
"She plays mostly defense. She often gets to join offense on corners where she can use her head, for good," stated Nick Sheikh, NHS science teacher and Head Coach for the girls' soccer team. 
Baker is known for being one of the team's best defenders. Skyla Starziki, a junior on the soccer team, agreed, "Marley is definitely best at Center D." 
"My favorite game this year would have to be our second game against Housatonic [at Housy]," said Baker. Housatonic Valley Regional High School has been the girls' main rival team for over two years now, and they get to play them twice throughout the regular season.
"I think that was not only our best game as a team, but it was our best competition," said Baker. "We ended up tying them in overtime, and I think that our game against them set us up perfectly to play them in the finals of the BL tournament."  
Junior Reilly Faraci commented: "I remember in one of the games [Marley] was playing defense, but came up for a corner kick and she scored off of it and it was awesome."
Baker may only be a junior, but she helps the seniors keep the team in line. "She leads the team in terms of being sent to do hills or laps," said Sheikh. 
Not only is she an asset to the soccer team, but she also contributed to the Nonnewaug girls' tennis team's 3rd place position in the 2019 Berkshire League tournament. 
She played doubles with Chloe Calo during her freshman season. Unfortunately, Baker did not get a season last year due to COVID-19. Practices have already started for the spring tennis team, and Baker says she cannot wait to be able to play with her team again.
Baker has always had a soft spot for sports and for following in her brothers' footsteps. Her two older brothers, Riley Baker, a senior at Clemson University, and Jackson Baker, a freshman at Boulder University, also both played soccer and tennis during their high school years. 
On top of being a star athlete for Nonnewaug, Baker is also a star student. She is able to juggle sports for all three seasons while maintaining Honor Roll for academics. 
Although Baker is well known in the sports world, there is more to Baker than just sports. She is also known around the community for her quirky, funny, and loving personality.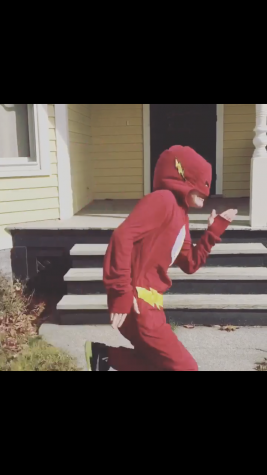 Ella Lupo, a junior at NHS who has known Baker since middle school, recalled memories of Baker's playful side. 
"When Marley was in middle school, maybe 6th grade, she dressed up as a whoopie cushion for Halloween," said Lupo. "We also went skiing once, and Marley took it upon herself to try and snowboard for the first time. She ended up face planting, and I could not stop laughing."
Lauren Parker, NHS junior, and Annalise Rupe, NHS senior, have been best friends with Baker since their preschool days at Bethlehem Day Care. They also recalled some funny moments with Baker. 
"We went out on Bantam Lake on my boat to go tubing … Every single wave that we hit [Annalise] and I would always fall off. Marley was gloating that she hasn't fallen off yet," Parker remembered. "Of course, the next wave Marley went flying and smacked the water so hard that her whole stomach turned red."
Rupe added, "There was one time when Marley and I dressed up as The Flash [superhero], and we ran around her house yelling 'zoom-zoom'."