Despite a Wavy Start, NHS Swim Team Crawls to Success in 2021 Season
WOODBURY — The Nonnewaug High School swim team had a successful season this year, despite a very wavy start. 
The swim team's year began with a disappointing pre-season announcement that swimming would be canceled this year. Then, a last minute change in plans allowed the swim team to have a shortened five-week season. Plus, there were no coaches for the swim team. 
Nonnewaug dean of students and athletic director Declan Curtin had to work fast to see if they could pull it together on short notice. Luckily, Nonnewaug's school social worker, Sharon Gomes, a former high school and Division III college swimmer, was able to quickly get her coaching certification and was ready to jump in. 
Gomes had helped the team several years earlier, but had not ever been the head coach.
Due to the short notice, it was hard for the athletes to adjust their schedules, as many swimmers weren't anticipating a season. 
"I wasn't able to go to many practices, so I didn't improve much," said NHS athlete Kayla Bouchard. "Because of the short notice, I couldn't get time off of work."
The only time the team could get swim time was from 8:30-10 p.m. in a nearby Watertown facility. The adjusted time of practice, an unusually late time, was because of contact tracing and Covid-19 safety regulations. Nonnewaug swimmers couldn't be with any other teams.
"We also had to put masks on immediately after our races," said swimmer Maddie Orosz. "[It] was difficult due to how out of breath you are after swimming, since most of the race you are doing 100% effort. [To] put the mask on after being out of breath [makes it] feel like you are suffocating." 
Even though there were some issues, the swim team was able to make it work and have two in person meets and two virtual meets. 
"This was a new experience for us all, and it certainly did not have the same feel as a loud swim meet," said Gomes. "But we managed to get in some good times, in addition to a few personal bests during the season." 
To brighten up the mood of practices, Gomes would bring her dog, Mabel. The students on the swim team enjoyed having Mabel there for practices. 
Sierra Wilson said, "Ms. Gomes always made sure that we were enjoying our season. I appreciated all she has done for us and made sure that we always had a fun time during practice, along with helping us to improve our skills with the short season that we were given." 
In addition to Gomes, Missy Orosz, parent of NHS swimmer Maddie Orosz and former head coach of Seymour High School swimming, was willing to step in and be the assistant coach. Missy Orosz also led the diving portion of the team.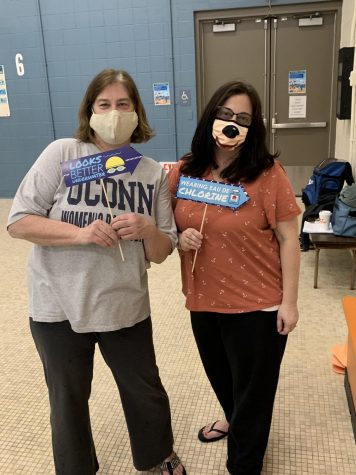 "We had two senior divers who really wanted to get a season in, and without Coach Orosz that would not have happened. The swimmers and divers were excited to get any time they could in the pool, especially after spending so much time at home due to COVID," said Gomes. 
Berkshire League championships were virtual also, but there were several swimmers who received medals for the top three finishes. The top BL finishers in individual events were juniors Collin Bootsma and Mackensie Pfahl, seniors Joe Rielly and Sierra Wilson, sophomores Amelia Pills and Madelynn Orosz. 
Although the swim team wasn't able to participate in many fun traditions this year, such as pasta parties and bus rides to meets, everyone involved stepped up to make it a good year for the student-athletes. Parents provided goodies to swimmers after every meet. They were also able to celebrate the seniors for a modified senior night, and they held an end of the year gathering with lunch and awards. 
As for the next season, sophomore swimmer Maddie Orosz said, "I'm most looking forward to a full season without masks and a full pool deck because that is what makes swimming so much fun. Losing your voice at the end of a close meet is a great feeling to have."