A Sweet Start to Spooky Season
WOODBURY — The Class of 2023 Class Council hosted a free movie night Oct. 7 with a showing of The Nightmare Before Christmas on the football field. About 150 students came out for a fun night of snacks and laughs. 
"The officers and I were brainstorming ideas for fundraising opportunities and all loved the idea of the movie night! There was a resounding yes from the council," said class president Madi Dannenhoffer. "After getting approval from [principal Pam] Sordi, we bought our snacks, and got materials from Mr. Brennan's firehouse."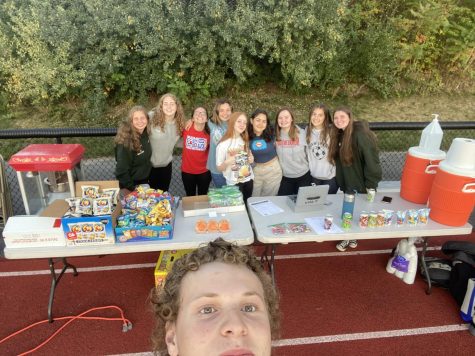 Class advisor Kyle Brennan was able to provide the equipment for the event.
"My fire department [Beacon Hose in Beacon Falls] has a lot of different equipment for lots of events they host, and it's also how we did the Sophomore Olympics, last year so I had two projector screens and two projectors from them and another [fellow] firefighter lent his." 
Class Council member Sophie Pape had some high hopes for this event.
"I'm hoping this brings more people together and I think this will help create more events for the school community later in the year and next year," she added. "It is very nice to be able to do something as a school community after a long time of being apart, not just for the class of 2023 but the school as a whole."  
Students began arriving shortly after that day's soccer game, with many rushing to get inside the field to pick out their spots. The preview was It's The Great Pumpkin Charlie Brown, a seasonal classic. Then as the episode ended, the feature film began. 
The Class of 2023 Class Council members sold concessions like freshly made popcorn, candy, cookies, and drinks. They were very successful in their goal to raise money for prom and other events.
"I was very happy with the outcome of the event," Dannenhoffer said. "It was a great night and everyone had a great time."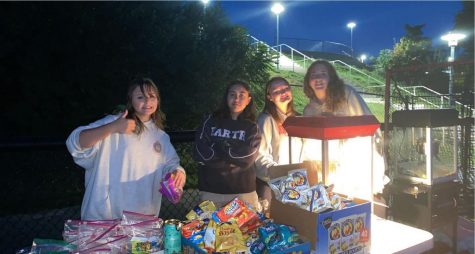 It was very important for students to have this opportunity.
"I loved it. It was great to be with my friends again," said junior Jacob Wells. "We had a fun night."