"America's Roller Coast"- Is it what it's chalked up to be?
SANDUSKY – Some of you are probably like "Roller Coast? What's that?" and that is why I am here. Cedar Point, located in Sandusky, Ohio is dubbed "America's Roller Coast," by the theme park community and critics alike. Home to 17 roller coasters including many famous firsts, and record breakers, it seems like it is the real deal.  Why is this place considered so good and is it what it is believed to be? Well I had the pleasure to visit the park in August and I am here to keep you in the loop on what the hype is about.
Gavin Cremers, a freshman at Wilcox Tech visited the park in 2021 with his family.
   When asked his thoughts on the park he said, "It is a magical place for families and thrill seekers of all ages. It is probably one of the best places to go if you are looking for roller coasters and thrill rides. Not only do they have that, they have kiddie rides for those junior daredevils. It is probably the best amusement park in the country and maybe in the world," said Cremers. 
Let's explore some key areas to see if Cremers is correct.
Located on a peninsula off the coast of Lake Erie, Cedar Point's resort includes a theme park, a waterpark "Cedar Shores", two hotels including their famous "Hotel Breakers", a beach, a marina complete with boat docks, a campground and a sports complex. However, most people don't care and just want the roller coasters.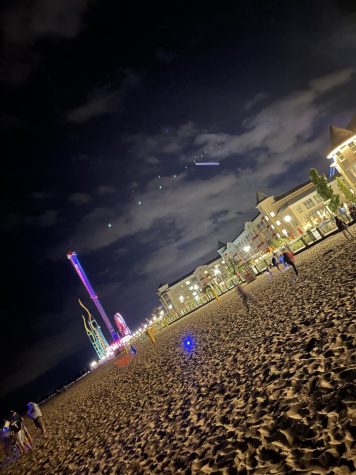 Speaking of roller coasters, it is home to many famous world-class coasters such as Maverick, an Intamin Blitz coaster with 2 launches, Top Thrill Dragster, an intamin strata coaster with a height of 420ft and a launch speed of 120mph and Raptor, a Bolliger and Mabillard (B&M) inverted coaster with the first inverted cobra roll. 
They also feature Millennium Force, an Intamin giga coaster with a height of 310ft and it's first drop is commonly used as a template for memes to describe things going downhill from a point in history. The park features an issue of having so many coasters from the same manufacturer all near each other. The front of the park is dominated by B&M and the back of the park by Intamin. This becomes an issue as the variety is all separated by parts of the park and not all mixed about like parks such as, Six Flags New England does.
 The park is also home to the newest coaster to the park, 2018's Steel Vengeance. Steel Vengeance is a Rocky Mountain Construction(RMC) hyper-hybrid coaster. This coaster was built using the previous Mean Streak structure and was converted to be taller, faster and feature inversion. It has the most airtime on any coaster, a total of about 30 seconds. This coaster was built as the competitor to Maverick[mentioned above] as rivals in Frontier Town, the western section of the park. This coaster is regarded as the best RMC conversion to date and won Amusement Today's Golden Ticket Award for best new coaster of 2018.
The park includes two ACE(American Coaster Enthusiast) landmarks of Blue Streak, a wooden roller coaster and Magnum XL-200 which opened up as the first roller coaster to reach the 200 foot mark creating the term "hyper coaster" to describe such rides to come. The park also features Corkscrew by Arrow Dynamics which was the first coaster to invert over a midway and first modern coaster to have three inversions. The historical significance of these coasters add to their marketing statement and is another big draw for coaster fans and history junkies.
The park also features a unique entrance with the B&M wing coaster, Gatekeeper greeting you by flying over the park gate, hence the name. Some other coasters in the park include Valrvn, a B&M dive coaster that's you face down looking at the first drop before it releases you, Rogaru, a B&M floorless coaster where your feet hang close to the track below and a mine train coaster. Again, three coasters by the same manufacturer all near each other in the front of the park.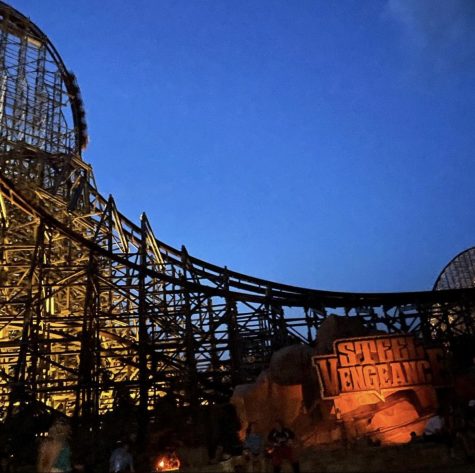 In terms of food, this park had fantastic food. Pulled pork, funnel cake fries, walking tacos, and fudge to be highlights of what I ate. I asked around in the lines on what food people liked. I found the corn dogs, fries and pretzel's are big hits with the general public as well. I was very disappointed that there were no churros so if you are a theme park churro fan, expect there to be none.
There are some familiar chain restaurants on property including a Panda Express, Chick-Fil-A and Johnny Rockets in case you miss home, but why would you, you are at the roller coaster capital of the world. This takes away from the immersion of being in a unique place as you would much rather try new foods than eat what you can have at home.
Some other unique offerings appear in the Frontier Town section of the park. They have professional wood carvers who make unique gifts, candle makers, a blacksmith, a hand crafted old time candy shop, pony rides and a barnyard petting zoo. The barnyard area featured many species found here at Nonnewaug like cows, horses, goats, sheep, pigs, chickens and rabbits and also had camels and friendly alpacas. Millennium Force zooming by the animals was a sight to be seen. 
Lastly, the hotel on property I stayed at was Hotel Breakers. It is the original hotel from 1905. It had beautiful views of Lake Erie from the lake side rooms, and park side rooms had the very cool view of the coaster lights at night. The hotel had a TGI Fridays, Starbucks, Perkin's and a hibachi restaurant inside along with it's own gift shop, two pools and a beach. The hotel had two entrances directly to the park which was very convenient to be able to just walk into the park from your hotel. 
The resort is truly unique and the fans and critics alike can agree that it is a place like no other. I asked my uncle, Steve Mendygral if he thinks the park deserves their self-given title of "America's Roller Coast" and he said, "Although it no longer has the most number of coasters in one park it deserves the title due to the different types of coasters it has." He continued by saying, "Also for obvious reasons it's location creates such serene views while riding coasters that you can't find anywhere else." 
I highly recommend you check this place out and add it to your 2022 summer plans, and find out for yourself if it is truly, "America's Roller Coast".