How Our Woodbury Community Embraced New Faces from Far Away
Woodbury's Distinctive and Welcoming Culture
WOODBURY — For those who haven't grown up in the Litchfield Hills, the beauty of Connecticut's geography is truly a sight to see. Whether it's the winding turns, the vast mountains that go for miles, or the beautiful farmland that spans all the eye can see, this area of Connecticut can seem almost foreign to someone visiting from out of town, or better yet, coming to join this eclectic community of people. 
But there's something more than just the terrain to this little slice of New England:​​ the culture and community. The Chief Advocate has set out to explore the welcoming culture of Woodbury, as well as shine a light on just how unique we are as a community. 
Moving up to New England from a small southern town in the summer of 2018, I had no clue what I was in store. I knew nothing about what Connecticut was like. The land, the people, and most importantly, the culture were all new to me. 
I had a hard time learning about my new home, primarily due to the Covid-19 pandemic, which greatly impacted my ability to go out and explore this tiny little town and others just like it. But over the years, I have picked up some new things here and there, and I have slowly but surely learned about the people here, as well as the welcoming culture.
Reflecting back on my own experience, I realized that this place is full of people from all around the world. I've set out to get their thoughts and to explore their cultural backgrounds with the primary goal of reflecting back what we have, and realizing our uniqueness, as well as our differences from other places around the world. We have people in our community that are from places that range from Jamaica all the way to Asia and many more.
One resident, Kaylia Hall, originally from the Bronx, N.Y., moved to Connecticut about six years ago.
"There is a huge cultural difference between Connecticut and New York. New York is more crowded, but [has a] family [feel]; everybody knows each other," Hall said.
Having experienced a little bit of New York culture myself, this is very accurate. When I moved to Connecticut, I saw these family values first handedly. 
Woodbury, being a very accepting community, opened its arms and has treated me as well as many other newcomers with respect and friendliness. The many community events and festivals bring friends, family, neighbors and strangers alike together for a unique community bonding experience. 
But let's see how other peoples experiences compare.
Former Alabama resident Esmeralda Kemp compared this area to the unique and vast culture in her small southern college town of Montevallo, Ala.
"Alabama is rich in rural culture," Kemp said regarding her former community. 
Another key part of the southern lifestyle that Kemp noticed was the unique culinary palate.
"[For example,] Alabama is known for its famous sweet tea," Kemp said. "What makes southern sweet tea so much different than any up North is simply, southerners have a taste for sugar that is demonstrably stronger than what you find up North." 
As someone who's lived in multiple different regions of the U.S., I agree. There is just something so unique and special about the pallets from region to region.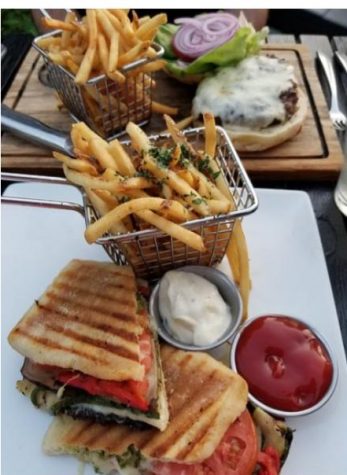 What makes the palates in Woodbury, as well as Connecticut, so unique is the fact that we have a little bit of everything.
Ranging from classic New England eateries, authentic pizza places, Italian restaurants, Chinese restaurants, Thai restaurants, cafes, and many more, the food variety is almost endless.
The food is very authentic because of the diverse variety of people who have come to Connecticut from their own unique regions around the world. Growing up in an un-diverse, off-the-map' town for a large part of my childhood, it is a pleasant change to finally have some authentic eateries and tasty new foods to enjoy from all over the world.
Woodbury has always been a very accepting community, and to see all that it has to offer, whether it be the unique food, community values, the beautiful landscape, or the countless other opportunities hidden away in this quaint little New England town, really goes to show how lucky we are as a community.
This is the opinion of Neal Waites, a reporter for the NHS Chief Advocate.