Nonnewaug's Opinions of the Met Gala 2021: Favorites and Failures 
WOODBURY –
Fashion's big night out returns, but not on the first Monday in May. The Met Gala was held on September 13 and was a smaller event than usual due to Covid-19.
  The Met Gala has gained popularity over the years and now fans look forward to this fashion and celebrity filled event. The gala serves as a fundraiser for the Metropolitan Museum of Art's Costume institute. 
Each year, the gala has a theme relating to the exhibit that will be displayed in the museum. The exclusive guests are encouraged to work with a designer and follow the theme. This year the Met's exhibit will be showcased in two parts throughout 2021 and 2022. The first part and theme of this year's Met Gala was, "In America: A Lexicon of Fashion". Fans had a lot to say about the guests who took the theme too literally and those who seemingly did not participate at all. "This year's Met Gala theme is a tribute to American fashion. Many of the stars wore red, white and blue. Some of them even wore dresses in honor of famous American fashion icons and designers," said Lux Calo, junior at NHS. 
The best dressed celebrities were the ones who collaborated with an American designer and/or wore a piece inspired by American icons
 Oscar de la Renta also dressed Billie Eilish and her look was definitely a fan favorite. Eilish wore a gorgeous, blush pink gown with a corset top and 15 foot flowing train. "Billie Eilish was notable in a pink gown that was similar to what Marilyn Monroe would've worn," said Calo. Billie and her team have confirmed that her eye-catching ball gown was influenced by the iconic Marilyn Monroe and the Barbie dolls Eilish played with growing up. Eilish wore the dress on the condition that the Oscar de la Renta brand would stop selling fur. Eilish is an animal rights activist and is strongly against wearing fur. Fans loved that Billie stood up for what she believed in and made an impact.
Yara Shahidi, who recently became a Dior ambassador, wore an intricate custom Christian Dior gown. Shahidi drew inspiration from Josephine Baker, a groundbreaking American and French entertainer. Baker was born in St. Louis Missouri, but found extreme success in France. Josephine became a successful singer in France and also worked as a French Resistance agent and civil rights activist. 
Many other celebrities went a different route and dressed to represent their patriotic side. Emily Blunt was dressed in Miu Miu and drew inspiration from the Statue of Liberty. Blunt wore a starry, sparkling head piece and glittering white and silver gown, "I think Emily Blunt was the best dressed and followed the theme the best because her dress was covered in stars and showed a side of the American theme," said Charlotte D'Alexander, junior.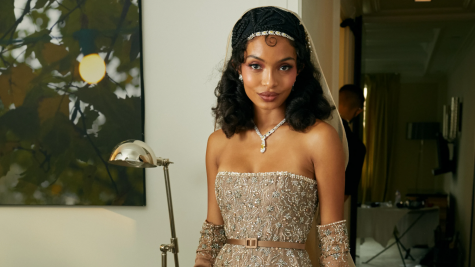 Some stars shocked viewers with their more unique looks. Kim Kardashian turned heads as she wore a head to toe black ensemble by Balenciaga," I was also not a fan and was a little surprised by Kim Kardashion's look as she wore all black and covered her whole body and face," said Calo. Many theories circulated on how Kardashian's dress related to the theme. Kardashian hasn't revealed her exact reasoning behind this ensemble, but she reposted a tweet on her Instagram story that seems to confirm a popular theory, "For someone who is always criticized for being overly sexual, Kim showed that she can cover every square inch of her skin and still find a way to be criticized and ridiculed, THAT is American culture." This fan suggested that Kardashian wanted to wear something completely different than her usual, more scandalous style. Kim definitely surprised her audience. 
Another controversial aspect of the gala circulating around social media was whether or not influencers should have been invited to this exclusive celebrity event, "I think it was important to include popular influencers because they have had a major impact in today's society. It was also very important to the Met because it could draw the attention of new viewers," said D'Alexander.  Inviting influencers definitely drew in a younger audience, "Some of the young influences that attended the gala definitely did not fit the vibe. I was not a fan of Dixie D'Amelio's' look as she wore a huge obnoxious head piece," said Calo.
A fashion event as big as the Met Gala brings in many opinions on different styles, inspirations and designers. This year's gala was successful because there were looks that certainly got people conversing and contributing their thoughts.