Putting the Pride Back in the Tribe – Nonnewaug's Return of School Spirit 
WOODBURY — The Nonnewaug Tribe goes back decades — its tradition and spirit is carried through the "Nonnewaug spoon" which Declan Curtin, dean of students and athletic director at Nonnewaug High School, holds. 
Covid-19 has disrupted so many aspects of normalcy at the NHS, especially school spirit. 
Past years at Nonnewaug have been full of school spirit. Right before Covid hit, Nonnewaug was at the peak of spirit.
"When we showed up at Shepaug for our basketball games, we had more fans then they did," said Curtin.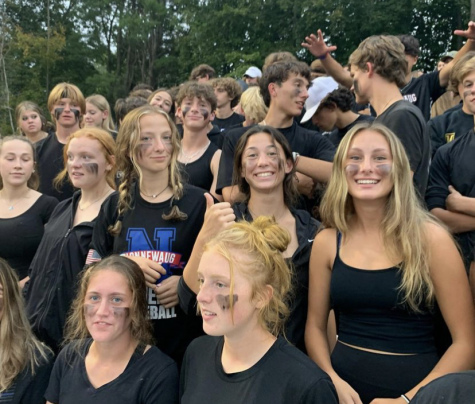 One of the most memorable moments was the Nonnewaug rivalry game against Shepaug. Nonnewaug fans filled the stands in red tribe shirts screaming and cheering for the Chiefs. 
Nonnewaug has built school spirit within its walls, left from years past.  Marley Baker, senior student athlete at NHS, is one of three kids in the Baker household. Her two older brothers both attended and played sports at Nonnewaug.
"Having brothers in the school system from years past, I have been able to see the student body change and develop," Baker said. "I think that the student body from several years ago is what we are trying to build now in terms of school spirit."
Covid-19 ruined so many things in recent years. At Nonnewaug, school spirit took a hard hit.
"Many of us were in survival mode and had to shut parts of our life down, change and adjust. The focus really became on getting as much of our education in as possible and there was a cost to that," said Curtin. 
Not being able to have live events and have fans attend those live events really had a negative effect on school spirit.
 "I believe that school spirit at Nonnewaug did not die, just went through a period of isolation," Curtin continued. 
Curtin believes that the Tribe will bounce back to normal and "with any good long hibernation comes a return," that return is coming. 
This year the Tribe is ready to get rolling again. With the start of the year, Nonnewaug has already had one Friday night football game where the Chiefs filled our stands with a blackout. Spirit Club plans on having a pep rally right before the homecoming game under the lights football game. 
Having fans allowed back at sporting events has already had a positive outcome for Nonnewaug athletes. One senior student-athlete, Brendan Burke, a key player on Nonnewaug's soccer team, gave his thoughts on the change. 
"It feels great having fans back at the games. The tempo and momentum feels so much better knowing that you have a whole crowd of people cheering you on and it just creates a way better atmosphere for the game," Burke said. 
This year NHS has a varsity football team for the first time in years. Curtin is hopeful that this will help foster school spirit and excite students and staff at Nonnewaug. 
"I am excited that it is back, I am excited that our fans are ready to get this place going. The team is working very hard, the coaching staff is coming together pretty quickly. We are a young program. However, we have a very good senior class that is going to lead us to some wins," said Curtin. 
"Yes, I think everyone will come watch and support our football games because who doesn't like watching high school football," added Burke. 
Everyone at Nonnewaug is extremely grateful and excited to bring back school spirit.