Bees All the Buzz at Outdoor Lunch Tables
WOODBURY — Since the beginning of the school year, everyone at Nonnewaug has noticed bees all over campus. The bees are most noticeably at lunch or on mask breaks. The excess of bees has also resulted in many students getting stung.
Why are there so many bees? Can Nonnewaug find a way to get rid of them?
Since an abundance of bees has been swarming the school, Nonnewaug nurse Sandra Snabaitis has noticed an increase in how many students are being stung.
"At least eight students [this school year]," Snabaitis said. "Lots of students don't even report being stung." 
The bees usually sting students' fingers, according to Snabaitis.
"Bees are mostly found near the outside lunch tables and outdoor sports areas," Snabaitis said. 
Clayton Hilpertshauser, a custodian at Nonnewaug who covers the cafeteria during lunch waves, has a different outlook.
"In the big picture they are actually good for the environment," Hilpertshauser said of the bees. "We have the food and sugars; that's why the bees like to come near us."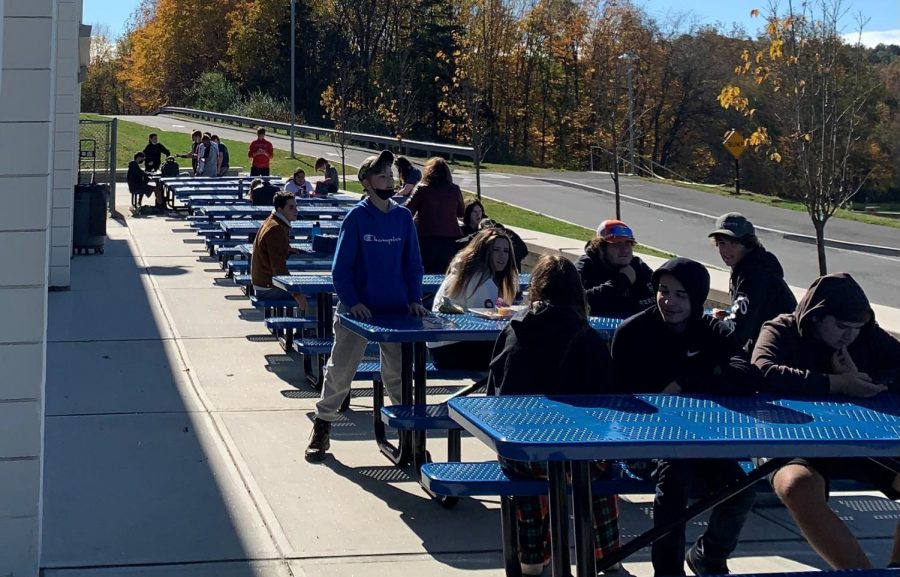 Luckily, there are ways to deter the bees.
"You can get a soda bottle and put something sweet in it," Snabaitis said. "The bees will fly in and won't be able to get out." 
With the temperatures dropping and winter right around the corner, the bees will no longer pose a threat to Nonnewaug — at least for a little while. 
"I don't think there's anything we can do about the bees because it is nature. The problem will be here as long as we have bees on the earth," Hilpershauser says. "Just let them do their thing and don't aggravate them." 
Eric Birkenberger, an agriscience teacher who specializes in floriculture, agrees that bees aren't really the issue.
"I think the problem has to be with kids not leaving them alone and swatting at them," Birkenberger said.