Need a Job? Now is the Time…
WOODBURY — Need a job? Now is the time to go get one. In Woodbury, Connecticut and surrounding towns, almost every corner one sees a "we're hiring" sign. Now is a great opportunity for teenagers to go out and make some extra money. However, with school back and extracurricular activities like sports occurring almost everyday, it seems like no one has the time for an after school job.        
 "If it wasn't for sports and a busy schedule I would get a job during the school year," said Samantha Conti, junior and student athlete at Nonnewaug.
Even without sports and extracurricular activities, this is the first full year back since March 2020 when COVID-19 first hit. So getting back to a normal schedule is going to take some time to adjust.
"It's definitely a lot of work and very stressful at times, especially when I have work, a game the next day and a big test or assignments due," said Lux Calo, student athlete and busser at Pies and Pubs,¨However, when I am able to balance school, field hockey, and work in a non stressful way I feel really good and productive" 
Being able to attend school, work, and sports is not an easy task, but it can be manageable.
¨My biggest tip is to not procrastinate because then it all adds up and gets stressful. Spreading everything out is so much more beneficial and less stressful," said Calo. 
Job requirements: COVID-19 addition
 "We're hiring because nobody wants to come back to work," says Autumn Johnson, a senior at NHS. 
Due to the pandemic, many people were out of jobs so they had to go on unemployment. 
After a year and half, people are still unemployed making more money through unemployment than going to work. With that being said, this doesn't really apply to high school students, but all the employers looking for workers are not exactly looking for only school students. 
"A lot of people don't want to work at CAST and a lot of places due to requiring a vaccination," said Johnson. 
Another setback from COVID-19 is the continuing argument on whether people should get the vaccine or not. Some do not feel comfortable with it, therefore won't work in a place that requires it. On the other hand, some don't feel comfortable with others near them that are not vaccinated.
This is an ongoing issue in more than just our small county. 8.4 million people are still unemployed in the United States, yet there are 10 million job openings, says Washington Post.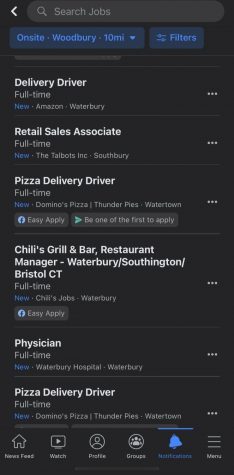 Even after a year and half COVID-19 is still damaging businesses and our economy. Millions of small and big businesses have gone under. Places in Woodbury are included in this, which is making the job hunt crucial. 
¨So many jobs are hiring right now because ever since the pandemic nothing has gone back to normal,¨ said Calo. 
 There are many reasons why so many jobs are in need of work during this time. Which makes a great opportunity for high school students to get a job if they need one or want one.