Year Two of Learning Amid the Pandemic: Perspectives from NHS Administration
The 2020-21 school year marks year two of student learning amid the COVID-19 pandemic. For perspectives on how education has evolved since March of 2020, the Chief Advocate's Bobby Assard sat down with a pair of Nonnewaug administrators, Principal Pam Sordi and Dean of Student/Athletic Director Declan Curtin. Both administrators offer unique perspectives on the value of in-person learning versus a remote option.
Interview with Sordi:
1. How has Covid affected your day to day life over this pandemic?
As principal of a building where over 800 people gather daily, the COVID-19 virus has affected the way we operate.  Measures have been taken to keep people safe and feeling comfortable.  I do believe the virus was more disruptive when it first broke out over a year and a half ago.  People are learning how to live in an environment where there is a risk of the virus.  As we learn more and people are vaccinated the risk of getting the virus or being harmed by the virus is lessened.
2. How has Covid impacted teaching this year? 
The impact of COVID for the 2021-22 school year is much less than in the past.  The most important thing is that students are in school.  In-person learning on a daily basis is the best way for students to learn. So now that we are back in school  the impact of COVID is mostly in the preventive measures that we take such as: mask wearing, spacing between desks and people, as well as contact tracing when a positive case is reported. 
3. How did the transfer from online to in school or vice versa affect you?
The immediate transition to online learning in March of 2020 was very rapid, but it was necessary. Fortunately Region 14 was prepared in that all students had school issued Chromebooks.  Online learning has evolved over the past year and half. Teachers worked hard to learn new technologies that would assist in the best instructional practices possible while not in person and it was a quick learning process.  I feel communication with students was one of the most challenging factors for teachers and students.  Without the benefit of facial expressions and body language it is hard to know the needs of each individual student. We needed to provide structure while still being flexible, that can be a tricky combination.
4. How has the curriculum evolved last year over the pandemic? 
The curriculum did not change with the pandemic. However the way it was executed was altered.  It took longer to get through some of the curriculum and the resources teachers used to cover the content varied depending on the learning situation at time.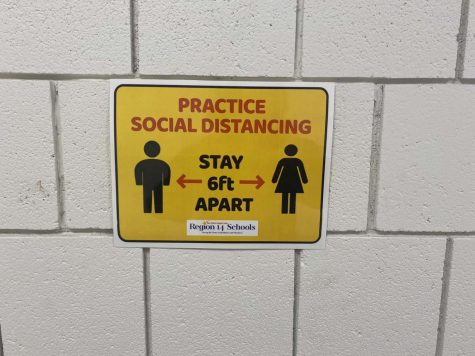 Interview with Curtin:
1. How has Covid affected your day to day life over the pandemic?
Covid has affected all of our lives. First and foremost, public health is most important when you are a building administrator. We have had to implement rules, procedures and policies in order for our school to be a safe environment. It has been difficult because in many cases people have their own thoughts and opinions about some of these rules, policies, and procedures. It is difficult to enforce, however  at the end of the day, we listen to those who are in positions above us in regards to health. We follow through with the recommendations that they provide to us. 
2. How has Covid impacted teaching this year?
Covid is still impacting us in terms of the individual classroom space and it is something teachers still need to think about. You don't have the group work and the dynamics that have been possible in the past. However, teachers are also teaching [in person], not teaching unsynchronized to someone at home, which is helpful for them because they can concentrate what was going on in their classroom. Last year was a very difficult environment for many teachers as they had to concentrate on two worlds: one that was in front of them and one that was virtual at home. So that aspect has helped with kids being in the building — seeing kids on a daily basis and seeing the instruction and getting to know what they're going through. We are in a little bit better situation, but obviously we are not out of the woods yet.
3. How did the transfer from online to in school or vice versa affect you?
It affected us tremendously in terms of communication with students and their home lives. [Aspects of] school … between what we offer for lunch, breakfast, social work, guidance counseling, nurses — when we were online, it was very difficult for those [areas] because it's about relationships and it's about sitting down and talking to people. That was an aspect of education that was very difficult when the kids were at home. However, now that they're back, all of a sudden it's a major part of what we're doing every single day. We're sitting down talking, going over student concerns, making sure their social and emotional health is taken care of so that academically they can take care of things.