Basketball Players Excited to Trash the Masks
Update (Dec. 23): The CIAC announced that due to an increase in COVID-19 cases throughout the state, student-athletes would be required to continue wearing masks throughout the winter season.
WOODBURY — The 2021-22 winter sports seasons are finally beginning. Student-athletes are excited to start their winter seasons and get the ball rolling. 
Last year during the winter season, athletes were required to wear masks at all times in the gym. They were given masks breaks during each quarter and at halftime went outside for another one. 
Running up and down the court a thousand times with a mask on was not the easiest task. 
The CIAC announced Nov. 29 the updated rules for the 2021-22 winter sports season. Starting after winter break, athletes who are fully vaccinated will not have to wear a mask while playing on the court. This rule may be changed or reevaluated following winter break.  
The decision on whether students are allowed to take off their masks while playing on the court is up to the individual school. 
This brought excitement from many athletes and coaches.
"It is great to hear that we do not have to wear masks while playing this year. It takes a lot of stress off of the players," said Brendan Burke, senior guard on Nonnewaug's boys basketball team.   
Even though coaches and staff will still have to wear masks, coaches are still happy that their players will not have to because of the visible effects it had on their players. 
"The struggle to take in enough oxygen while sprinting up and down the floor for extended periods of time was evident," said NHS girls basketball coach Adam Brutting. "During free throws or during mask breaks, you could see them gasping for air or breathing more heavily than normal." 
Brutting feels that the masks definitely "took away from the quality of plays from athletes."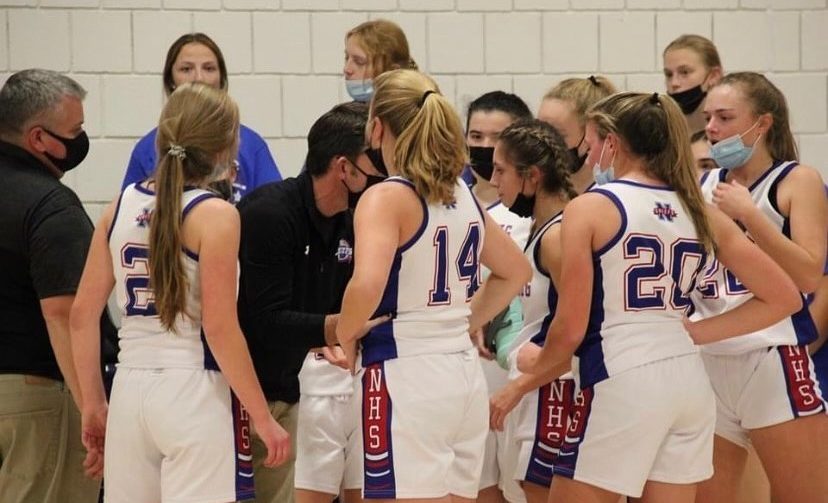 Not having to wear masks while playing on the court poses opposing viewpoints for student-athletes and coaches. 
"I was happy, but nervous at the same time," said Maddie Roden, senior forward on the girls team. "I am glad things are getting back to normal but since it is my senior year, I would not want us having to stop the season due to an outbreak." 
Burke stated that masks make things more difficult.
"I think some people had a hard time wearing a mask while playing because it is hard enough to play without one on," Burke said. "Playing with [a mask] was irritating and made a lot of players fatigued."
Both Brutting and Burke agreed that they think not having to wear a mask will have a positive impact and outcome on players. 
"If I were in their shoes, I would want to be able to play without one because of the issues they pose to a player competing in a game," said Brutting. 
However, playing without masks causes some concern for athletes.
"I was a little worried about being exposed to that many people, especially because everyone is breathing so heavy so close to you," said Anna Culkin, senior center on the girls team. "I would hope that everyone is vaccinated because I do not want to get exposed and potentially get my grandmother sick. So definitely more worried than excited."