Fans Find Way to Theaters for "Spider-Man: No Way Home"
Warning: This article may contain spoilers.
Tom Holland's version of the friendly neighborhood Spider-Man will return to the big screen on Dec. 17 in "Spider-Man: No Way Home." We last saw Holland as Spider-Man in 2019 when Spider-Man's true identity as Peter Parker was exposed to the whole world.
The new movie follows Parker as he reaches out to Doctor Strange for help making his life go back to normal. Evidently, Peter is not a normal teenager, but his life was completely turned upside down when his identity was exposed. The media, particularly The Daily Bugle, attempts to depict Parker as a villain. Anywhere he goes, Parker is swarmed by curious and concerned people.
Parker's plan to enlist help from Doctor Strange quickly goes south and they accidentally summon villains from other universes. The super villains that appear to terrorize Parker like Green Goblin and Doc Ock have previously been in the other Spider-Man film series. This movie explores the "multiverse" of the Marvel Cinematic Universe more in depth than ever before."The Multiverse in the MCU could be the biggest thing for movies ever," said Mick Ciesielski, NHS graduate. "In the comics the multiverse is used a lot. Seeing this on the big screen can  bring in many different characters from different movie franchises."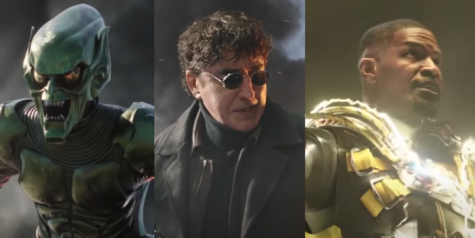 While fans anticipate the release of "No Way Home," there are many theories and predictions circulating.
"One theory I have heard is that MJ dies, which I hope is false because I like her character and I like what she brings to the movies," said Carley Shook, junior at NHS.
The trailer shows a scene where Parker's girlfriend, MJ (played by Zendaya), is falling off a bridge, which parallels Gwen Stacy's tragic fall and death from "The Amazing Spider-Man 2." 
This particular scene contributes to other fan theories that Andrew Garfield's Spider-Man may make an appearance in time to save the current Spider-Man's girlfriend.
"I think Tobey Maguire and Andrew Garfield will be back as Spider-Man in this movie because it has villains from their movies," said Ciesielski.
It is safe to say that anything is possible in the MCU, especially with the multiverse unlocked.