Final Goodbyes: Junior Fall Athletes Bid Farewell to Senior Teammates
WOODBURY — The 2021 fall sports seasons are over after plenty of success. For juniors, underclassmen and coaches the process of saying goodbye to their senior athletes is difficult. 
Nonnewaug girls soccer held its senior night Oct. 28 against Litchfield, the only team in the Berkshire League that had given the Chiefs trouble, only beating them 1-0 in the first meeting.  
In the second go-around on senior night, Nonnewaug defeated Litchfield, 4-0, claiming the BL title. The Chiefs have eight beloved seniors that they will miss next year: Paige Brandt, Sofia Pagnamenta, Skyla Starziski, Marley Baker, Lexie Bernardi, Ella Lupo, Eva Dos Santos, and Reilly Faraci.
"They make everything really fun and are strong leaders on the field," said Mallory Tomkalski, a junior defender. "A lot of them have a lot of soccer experience which shows on the field. The whole team is going to miss them a lot next year."
The boys soccer team has six seniors — Collin Bootsma, Brendan Burke, Owen Hale, Aiden Colby, Chris Culkin, and Christo Jamo — and had its senior night Nov. 2 against Housatonic, earning a 9-0 win.
"I will miss the fun and competitive aspect they bring to practice, and how Brendan pushes you during the games," said junior goalie Dylan Chung. "Aiden is a leader on the field."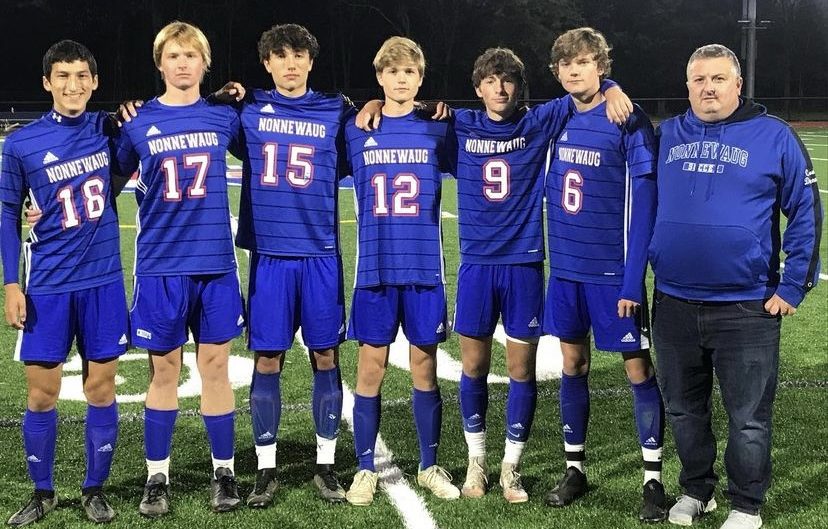 The cross country team had a total of two seniors, Dan Jaffin and Elizabeth King. The volleyball squad hosted senior night Oct. 26, honoring six seniors: Keira Buckley, Sabrina DeSorbo, Alaina Edmonds, Brianna Hynds, Sarah Ruiz, and Kayla Zottola. 
Nonnewaug field hockey held its senior night Oct. 27. Despite playing their hardest, the Chiefs lost to Thomaston, 5-0. Seniors included Anna Culkin, Jade Fortin, Madison Stampp, Maryl Hartmann, Sami Faull, Erin Classey, and Alyssa DeMarest.
"The thing I will miss most about the seniors is their dedication to the team and their commitment to the team. I will also miss the bond that they have with the rest of the team," said Lux Calo, a junior on the team. "They keep our team together as one and keep us motivated to keep our heads in the game. We are a tight group and it will be hard to recover without them next year."
Northwest United, Nonnewaug's co-op football team, hosted its senior night under the lights Oct. 22. Since it was the first season with a new co-op team, this senior night was special and meant a lot to the seniors. 
The team won big that night, defeating Wilcox-Kaynor, 50-6. The team has a total number of 11 seniors, nine of whom are from Nonnewaug: Ben Conti, Colby Leonard, Ricky Lionhood, Kevin Llenga, Jake Marques, Jay Mauro, Charles Rickenbach, John Snabaitis, and David Suttles.