How Early is Too Early for Christmas?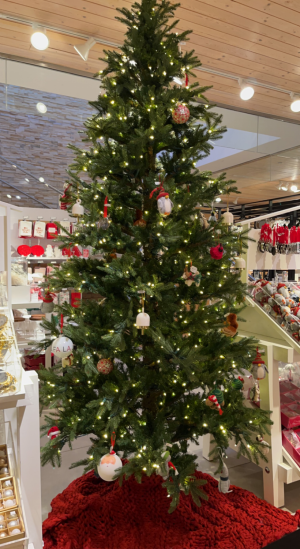 For some people, setting up for Christmas early is a life-long tradition. Others set up in mid-December. Some people don't set up at all.
Every year around November, the argument of whether or not it's okay to set up for Christmas early comes up. There are some very strong opinions about it.
A poll done on Instagram showed that out of 82 people, 61% voted to set up early and 39% voted to wait. 
Karisa Cizaukas was among the voters who like setting up early for Christmas. 
"I love when Christmas is set up early," Cizaukas said. "It makes people happy to see the stores in town decorated with festive decorations, it just improves the mood."
Grace Walkup agrees.
"Setting up for Christmas early makes people very happy and helps build anticipation for the holidays," said Walkup.
Have you ever wondered when decorating for Christmas began? Or why do trees, ornaments and candy canes represent the holidays? 
Putting up sprigs of pine trees started as a Pagan tradition which represented the light of life in the cold, dark winters. It has eventually evolved into the trees we have today, which are vibrantly decorated with lights, ornaments and streamers.
As for candy canes, it is said that they were first associated with Christmas in Germany where the choirmaster at church would hand them out to keep the little kids quiet during the service.
Decorating for Christmas is an activity that most of us can't wait to partake in. Others disagree and hold off for various reasons.
Audrey Rogers doesn't think decorating for Christmas early is necessary.
"Christmas isn't for another month so why go through all of the work of setting up for a holiday that isn't going to be here for a while." Rogers said. "It's like setting up for Easter in February." 
Eliana McJunkin agrees.
"Why would you start decorating if it's not even Thanksgiving yet?!" McJunkin asks. "I need time to finish enjoying fall."