Merry Christmas, NHS Lunch Waves: No More Dividers and No More Masks?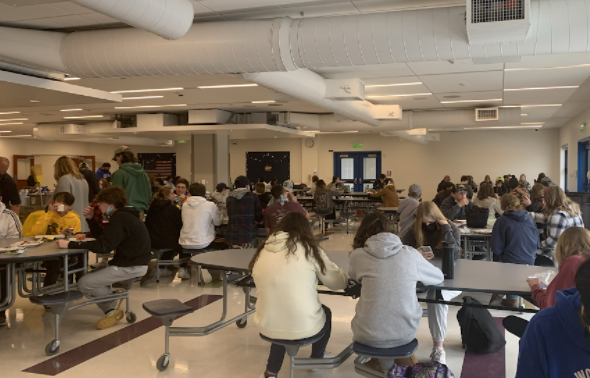 WOODBURY — The students at Nonnewaug are buzzing with excitement and curiosity about why the large plastic dividers in the lunchroom were taken down. Prior to COVID, students were able to eat and talk to friends without all of these new protectors of this virus including the dividers and masks. 
"They [the dividers] did nothing," Aurora Proulx, a senior at Nonnewaug, said. "They were worried about COVID but people didn't have their mask on for 30 minutes all in the same space." 
In the cafeteria, students were allowed to have their masks off because they were eating. Each lunch wave is about 30 minutes long, so Proulx noted that the students were around each other for long periods without masks. 
"The dividers wouldn't do anything if someone had [COVID]," stated Proulx.
Michael Bambino, a junior, noted there are several questions regarding the efficacy of the dividers in the cafeteria. The size of these dividers made them an annoyance with the students because they took up too much space.
"They do not do anything and they are pointless," stated Bambino. "I'm glad they stopped using such a dumb item that took up most of the table."
Autumn Gilbert, a junior at Nonnewaug, says that without the dividers she was able to "converse with [her] friends more easily and talk freely. Lunch is the time to talk to friends."
"It hindered our way of communication," explained Proulx. "We had to scream just so the person diagonally across from us could hear what we were talking about."
What's Next?
Now that the dividers have been taken down, students are able to explain what they think is next in the process of making the school feel normal again. 
"I hope masks are next [to be taken away]," said Bambino. 
"They were a good idea in the first place, but moving forward I think the students messed with them and broke too many," Gilbert stated. 
Masks have and will continue to be used during school hours and students are asked to wear masks on buses.
Gilbert adds that now she "is able to converse with my friends more easily and talk freely with them, and take in my surroundings more easily."
The Reasoning
Due to the cold weather, with many sports teams and limited space, Nonnewaug is struggling to fit everyone into a practice space. The wrestling team has been given the cafeteria as their space to run their practices. Rolled up wrestling mats are located in the corner of the café awaiting their team to use them. The team has been using this space for multiple years. 
While the students thought this was a step towards having no more masks as their Christmas gift this year, this was not the case. 
"It was too much to keep moving [tables and dividers] after school, so they were taken away," states Kyle Brennan, a history teacher at Nonnewaug.