Nonnewaug Hosts 13th Annual Senior Citizen Meal
WOODBURY — Nonnewaug High School hosted its 13th annual senior citizen holiday meal Dec. 9. There were many different meals at the event provided by the Farm to Table and Culinary classes at Nonnewaug.
From turkey pot pie to apple crumble pie, Nonnewaug was filled with lots of options. The classes worked hard to make their vision a reality.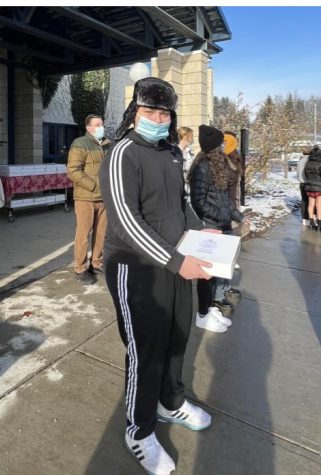 The event went smoothly thanks to the Nonnewaug band and choir group. These groups showed their support, playing music as the cars pulled in. The cars were directed as they drove into the school parking lot.
Culinary teacher John Dominello was integral to the event, helping students prepare and give out meals. His culinary classes worked on cooking and providing these meals for more than 110 seniors.
"Although we miss serving our guests in a traditional setting, the drive-through format allowed us to provide meals for more than double what we typically serve inside," Dominello said.
All the ingredients were fresh and local from Nonnewaug's garden and the town of Woodbury. The event lasted an hour from 10 a.m. to 11 a.m.
"The senior citizen drive-thru is a great learning experience for students," said Dominello. "It's the highlight of culinary, [a chance] to give back and help our community. It was fun and educational for the students. We had a lot of seniors drive up and students got to help out."