The American Dream: An Indoor Escape
EAST RUTHERFORD, N.J. — Do you hate the cold winter months? Do you miss doing fun summer activities like going to waterparks and theme parks? Me too, but I have good news for you: There are options for us. 
Located in East Rutherford, New Jersey, The American Dream Mall is home to many fun things to do, including a water park, an amusement park, an ice rink, two mini golf courses and a shopping and dining complex. 
I visited the mall, of course, for the amusement park. Nickelodeon Universe is a Nickelodeon-themed amusement park located inside the mall. 
Nickelodeon Universe was a unique park with many state-of-the-art attractions tightly packed into a small area. Although it feels much smaller due to the attractions being close together, it holds the record of the largest indoor theme park at 8.5 acres. Featuring five roller coasters, its star attraction is TMNT Shellraiser.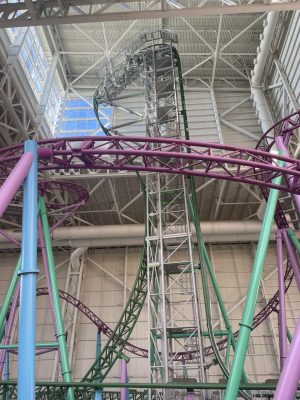 Themed to the Teenage Mutant Ninja Turtles, this Gerstlauer Euro-Fighter features a 0-62 mph launch in two seconds, seven inversions and the world's steepest drop on a roller coaster at 121.5 degrees.
Although it boasts an impressive record, it was not worth the hype. The coaster was quite painful, leaving me and my uncle headaches for the rest of the day at the mall. 
Shredder, a Gerstlauer spinning coaster similar to Pandemonium at Six Flags New England, wrapped around the standout coaster. This was the smoothest coaster in the park and was fun. 
The park also features Nickelodeon Slime Streak, a family coaster and a halfpipe coaster themed to the Fairly Odd Parents for the bottom of their line up. 
It also featured Sandy's Blasting Bronco, an Intamin launch coaster with a turntable, meaning it goes forwards and then backwards. This coaster was closed during my visit for its annual maintenance. 
The park also had more than a dozen flat rides themed to Nickelodeon characters and shows like a Rugrats carousel, a Paw Patrol whip-style ride, Spongebob Jellyfishing Swings and more. 
Character meet-and-greets were also happening hourly, with the Teenage Mutant Ninja Turtles and Blue from Blue's Clues, and of course, it wouldn't be Nickelodeon without SpongeBob and Patrick being there throughout the day. 
The food selection in the park is pretty slim, with the park being less than two years old and only being open for a few months before COVID struck. It had one small food stand with typical snacks like popcorn, pretzels, candy and soda. 
The biggest surprise of Nickelodeon Universe wasn't the rides or the theming; it was that it actually had churros, which I obviously ordered. They are about average, but if you miss churros that much from better parks it is worth getting. I'd rate them an eight out of 10. 
The mall is also home to a Dreamworks-themed waterpark across from the park. The park features slides and areas themed to Shrek, Madagascar and other franchises popular with the company. It boasts being home to the world's largest indoor wave pool, which certainly earned the title.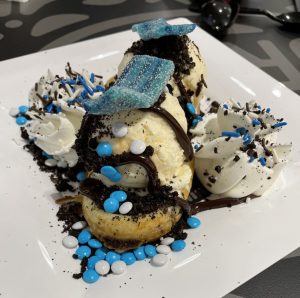 I went to the Outer Space mini-golf, one of two courses in the mall, and it was cool, with it being blacklighted. Everything had a neon glow to it and made it much more fun than a typical mini-golf game. 
Additionally, there were numerous shops open, but more than half of the actual mall is still empty, as the mall opened shortly before the pandemic struck, leaving many businesses to pull out of their leases. 
Some stores that were there included Build-a-Bear, Bath and Body Works, Foot Locker, Amazon 4-Star, and Victoria's Secret/Pink. The mall also featured many luxury stores like Dolce and Gabbana and Gucci, which a majority of people attending the mall avoided for obvious reasons. 
Mall food choices were slim, again as not everything has opened yet due to Covid but there was of course multiple pretzel stands, a Cinnabon, coffee shops, and smoothie stands. There were a few luxury sitdown restaurants, as well. 
There are many other aspects of the mall I didn't include including the ice rink, ski slope and discovery centers, so you could explore it for yourself during Christmas break when you miss the hustle and bustle of a summer day at your favorite theme park. Make sure to check it out and support it as it continues to grow after the pandemic.