Winter Wonderland: Not So Wonderful for New Drivers
WOODBURY — Nearly all the drivers in Nonnewaug's parking lot have only been driving for one year in the snow. In some cases, a handful of drivers haven't experienced the snow at all, while all drivers need to find a balance of being on time and being safe behind the wheel. 
It's always exciting when students know snow is coming and school might be cancelled, but just like the recent snowfall, school wasn't cancelled, and it ended up being a full day. This led to students driving in the snow for their first time. 
"My recent drive to school was interesting," said Ryan Setaro, a junior. "[It was interesting] because I was sliding around, and it was kinda fun but at the same time it is dangerous." 
Since teachers have been driving in the snow for so long, they know what to prepare for the night before. 
"Some things I may do include setting my alarm a little earlier to clean up the cars and driveway," said Andrew Zielinski, NHS mechanics instructor. " Sometimes I will] throw some salt down on my driveway if it will not be a lot of snow, and making sure I know where my snow brush is so I am not scrambling to find it first thing in the morning." 
Mathew Greaves, a Spanish instructor at NHS, has a similar way to prepare for the snow.
"I make sure that I allow extra time to clean off the car and warm it up," he said.  
For Setaro, even though it was his first time dealing with snow, he was prepared.
"I wake up earlier because I know I'm going to drive slower and I get everything ready to brush off the snow in the morning," Setaro said.  
Staff and students agree that there is one thing that's most important come inclement weather: safety. 
"I'd rather drive safe and be late than driving too fast," says Joe Velky, a junior. 
"Always take the time and be safe," says Greaves.  "Not only are accidents potentially dangerous, they can really disrupt your routine."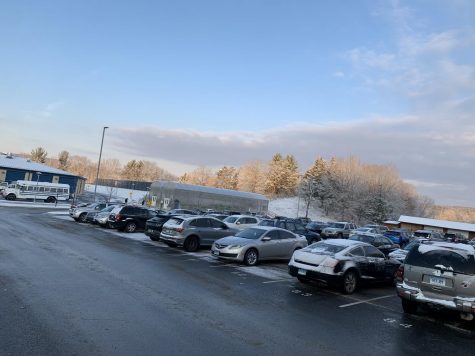 With the first snow of the season arriving in mid-December, there was also some talk about the district's decision to not give students and teachers a delay.
"I know the superintendents work with a lot more information than we know to make closing/delay decisions, including information from the public safety officials, meteorologists, and public works crews," says Zielinski. "I trust they will make the right decision to ensure the safety of staff and students." 
Due to students being new drivers, they would have preferred to get extra time for their ride to campus.
"I think not getting a delay was not a smart idea because it will give people extra time to warm up your car and de-ice it, and it takes the pressure off students to get to school on time," says Setaro. 
Velky feels the same way about getting extra time.
 "I think a delay would have been beneficial because it gives more time for roads to be taken care of and for the ice and snow to melt," Velky agreed.