Brenner Promotes Physical and Mental Health in Wellness Classes
WOODBURY — Nonnewaug High School wellness teacher Kathy Brenner is known for being able to cheer anyone up when they're feeling down. Be around her merry smile, positive attitude, and constant promotion of fitness, and she's sure to rub off on you. 
This school year, Brenner has been tasked with teaching two subjects in the same class: Physical education and health are combined to be what is known as wellness. She discussed how she feels about doing this for the first time in her career.
"I'm new at this health stuff," she began. "I like the change of having to teach health along with PE, but because of the 90-minute classes, I think that's too long for just one subject, so I like to divide it. And I think dividing it keeps both the kids and me interested in both topics."
Freshman student Mae Addeo explains how she feels about her wellness teacher tackling two subjects at once.
"For it being her first time, I think she's doing a good job at incorporating both the health and the physical education parts. I like the variety that her class includes," Addeo said.
It turns out, however, that teaching physical education wasn't always what Brenner had planned to do with her life.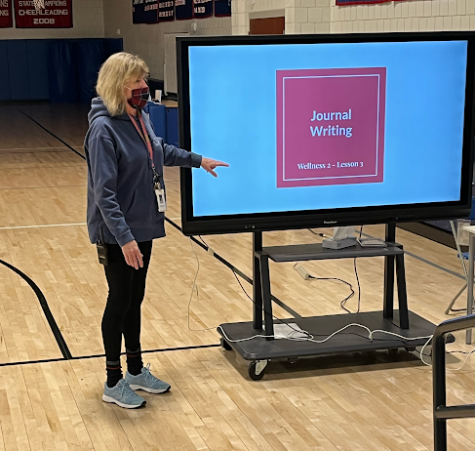 "Actually, I went to a college for business [administration] and I was a math minor," she said. "I realized that not only was I homesick, I realized that the majors that I picked were not for me, so I asked my parents if I could come home. I went part-time to Central [Connecticut State University], and started a part-time job coaching field hockey." 
When she realized how much she enjoyed coaching high schoolers, she had an epiphany.
"I was having a blast with my girls. Then the lightbulb went off," Brenner said. "So I changed my major."
Once Brenner realized her true calling, she went on to establish a long, successful career here at Nonnewaug, both teaching and coaching.
"I've coached several sports: boys track, girls tennis, and then I was the field hockey coach here for 15 years, and I was also the strength and conditioning coach for about 10 years, and I also run intramurals," she listed, the fulfillment apparent in her eyes.
Even though she doesn't coach anymore, Brenner still makes an impact on her students.
"I think she's a really good teacher," Addeo added. "It's clear she does her best to keep everyone satisfied with the class. She makes it a lot of fun."
Brenner then shared her favorite lifestyle quote that she strives to live by every day.
"Stay healthy, eat healthy, move throughout the day," she said, "and keep your mind healthy by staying positive."