Fashion Throughout Spirit Week: A Memorable Five Days at NHS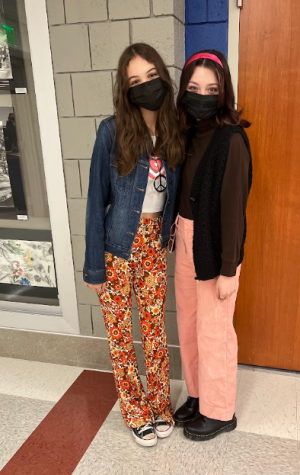 WOODBURY — Spirit Week was an incredible success at Nonnewaug High School last week. Students expressed their creativity and their amazing fashion sense. The week consisted of bringing "Anything but a Backpack Day," "Decades Day," "Beach Day," "Color Wars," and a week that culminated with the "Red-Out." 
"My favorite day from Spirit Week was Anything but a Backpack Day because everyone got super into it and there were a ton of different things people brought," stated junior Zoie Cole. "Everyone had their own unique take on the idea. It was chaos in the most organized way possible, and it was all for a good cause."
Anything but a Backpack Day
Students went above and beyond for Monday's theme. From bringing coolers, shopping carts, microwaves, kayaks and even siblings, students had a fun day. What a great way to kick off the start of the week traveling class to class without a backpack. 
Decades Day
Students wore a variety of different decade-based styles Tuesday. Freshmen dressed up as the '50s, and sophomores as the '60s. Juniors portrayed the '70s, as they were seen wearing long flare pants, bandanas, bright colors, and multiple patterns. Seniors dressed up as the '80s, they walked into school wearing neon clothing, bomber jackets, and a variety of different hairstyles. Even NHS faculty participated by donning their choice of a favorite decade. 
Color Wars
Each grade had an assigned color to wear Wednesday. Freshman were seen arriving in blue, sophomores came in green, juniors wore white, and seniors were seen in black. The contrast between the colors featured two classics that never go out of style.
Beach Day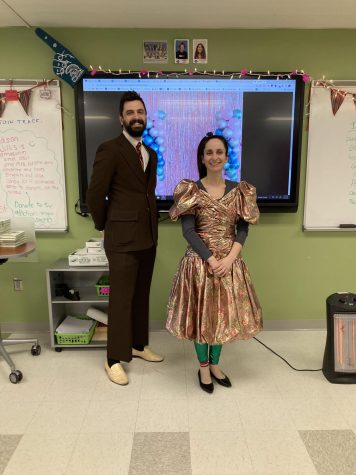 For Thursday, students and teachers let their creativity shine through. From leis to Hawaiian shirts, beach hats and even a shark costume worn by English department chair Jess McKay, Beach Day brought a bit of warmth to a frigid February day. NHS also saw social studies teacher Kyle Brennan running around the school, offering students sunscreen. You wouldn't want to burn on a hot summer day — even if that summer day was disguised as a mid-winter Thursday.
Red-Out
Friday was the busiest day of the week and the culmination of Nonnewaug's focus on raising money for leukemia research. Students and teachers arrived at school wearing their Leukemia and Lymphoma Society shirts and other red clothing. The school day ended with a scavenger hunt and the big red-out basketball doubleheader, where students were seen showing their school spirit as the Chiefs played host to Shepaug on the basketball court. 
"Spirit Week was successful because I think the events were things that we could all participate in and have fun with, " says junior Sophia Dmitriyeva. "All the students working together is what made it all work out well."
View this post on Instagram
View this post on Instagram
View this post on Instagram
View this post on Instagram
View this post on Instagram
View this post on Instagram
View this post on Instagram