Fitzpatrick Brings Family-First Attitude to NHS Boys Hoops
WOODBURY — Adding to the chaos of COVID, Nonnewaug's boys basketball team was left without a coach close to the start of its season. 
Nonnewaug boys basketball team's former head coach, Devonne Parker, stepped down prior to the season. The Chiefs were without a coach entering November.
Nonnewaug athletic director Declan Curtin knew he needed to find the right person for the job, and he did. Curtin, principal Pam Sordi, and a committee conducted an interview process with specific questions designed to find the perfect coach. 
After holding multiple interviews with a variety of people, they finally found the perfect fit for the Chiefs: Tim Fitzpatrick, former Chase Collegiate coach and player, was awarded the position. 
Fitzpatrick has a credible basketball background. He grew up playing the sport, playing high school hoops for Saint Margaret-McTernan in Waterbury, which then became Chase Collegiate School. During his junior and senior years, he was co-captain and led his team to the New England championship along with his current assistant coaches, Kyle Fitzpatrick and Chris O'Brien. 
Curtin said the interview process went beyond basketball. The committee asked questions focused on the school community and culture. 
"After interviewing Mr. Fitzpatrick, we knew and felt very confident that we had an individual that checked all of [our] boxes," said Curtin. "[Fitzpatrick is] someone that was passionate about basketball, someone who was a student of the game, who was always listening and always learning."
Fitzpatrick's personality stood out from the other candidates. 
"When we hired him, I watched him go out to his car after he left the interview, and when he got out to the flagpole he jumped into the air and fist-pumped," Curtin said. "It was kinda like a Rocky moment, and he didn't know anyone was looking at him. [However,] we were looking at him through the glass hallway, and I knew we had our guy and that we were going to be OK." 
Curtin also explained how Fitzpatrick is now famous for his fist bumps, and every time he walks into the room he fist bumps everyone he sees. 
"In his interview he described being a coach as family," Curtin said. "He kept using the word 'family.' He has a really large family." 
Fitzpatrick brought on two people for his coaching staff, his brother and his best friend. The head coach claimed that he didn't have a choice because Kyle is his brother. However, the two fell in love with coaching together. 
"Kyle and I started coaching 10 years ago. We coached at [a] middle school in Boston," Tim said. "He was part of the deal when I came here, I wanted him to come with me. When I had started coaching at Chase, Chris had volunteered to come to practice one day and he never left and he has been here ever since."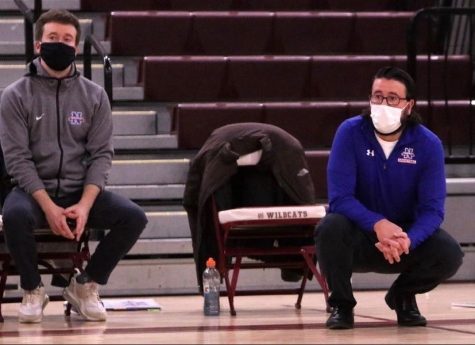 His family-like culture held true when one of Nonnewaug's star players and senior captain, Ben Conti, went down in a close battle Jan. 14 at Northwestern, breaking his wrist. Fitzpatrick multi-tasked, coaching the close game as well as constantly checking in and giving Conti words of encouragement. 
After the game was over he went over, sat down with Conti and hugged him, telling him to stay positive and that everything was going to be OK. 
"The relationship [with the team] is everything — that's 50 percent on the court and 50 percent off the court," Fitzpatrick said. "I want these guys to know that whatever they need in life, we are going to be there to help them, whether that's a basketball thing or attorney thing or letters of recommendation."
The coach treats all of his athletes like his family and is well liked so it was not a surprise when former Chase Collegiate basketball players attended Nonnewaug games to support their old coach.
"Everyone is like a family. We all trust each other and have a good relationship," said Aiden Colby, senior forward at Nonnewaug. 
Fitzpatrick is even excited to get involved and get to know the community. He often encourages his boys to support the Woodbury Middle School boys basketball team and even asked them to attend their recent tournament championship game. 
"It is a family atmosphere, and that's what we miss most about coaching at Chase — meeting all the parents and just seeing them around town," Fitzpatrick said. "We are looking forward to getting more involved in the community so that we could do that more often."