Snabaitis the Health Professional and Lifeline of Nonnewaug High School
WOODBURY — Whether it be a runny nose, an upset stomach, or on the rare occasion, a serious medical emergency, Nonnnewaug's own Sandra Snabaitis is always prepared for any situation. 
Nonnewaug's school nurse has helped almost each and every student, and even some teachers, with her medical knowledge and professional expertise. Nonnewaug's Chief Advocate did a deep dive and found out all there is to know about Snabaitis, our school nurse, and the caretaker of Nonnewaug's students and staff.
Born in a family of five in Waterbury, Snabaitis graduated from Naugatuck High School. She acquired her first associate's in science degree in the field of medical office administration at Naugatuck Valley Community College.
At first, she started working for SNET, a telecommunications company. However, she knew she needed a change.
"When I was working at the phone company in human resources, I just knew there was more out there for me besides that," she said.
Snabaitis was predestined to go into the medical field — it was in her blood.
"My mother was a nurse, you know?" she said. "She was my mentor."
She went back to school to pursue her nursing career at Quinnipiac University, graduating with her RN in 1986.
"I worked at the Hospital of St Raphael's, first as a student nurse on the neuro floor, and then when I graduated, I was hired for the cardiac stepdown unit," Snabaitis said.
Two years later, however, she was offered a position as a primary care nurse for the VNS (Visiting Home Nurses) in the home health field.
"I got a phone call from where I worked as a home health aid to go work for that agency as their nurse," she said.
From there she instantly fell in love.
"I fell in love with home care, and of course, I got married, and home care worked very well with my work schedule, and raising my children," Snabaitis said.
Speaking of her children, John Snabaitis, a senior at NHS, notes that his mother's caring personality makes her an ideal fit as a school nurse here on campus.
"She's very helpful," he said. "She loves to help others and she cares about people."
She does all of this and more while also having the time to help her kids whenever possible.
"Throughout high school, she's helped me do well in my classes," John added, "and she helps me study and succeed through high school."
She not only worked in cardiology and homecare but also helped rehabilitate brain trauma victims, assisting them get back out into the world while Snabilitis also helped operate care facilities.
"I helped run group homes throughout the area," Snabaitis added. "Taking clients out of rehab and special care and getting them out into the community [was my focus], while also guiding their medical care."
When working at Nonnewaug, she completed her bachelor's degree in school nursing at Western Connecticut State University and continued to work part-time on the weekends at VNS.
"Nursing is a very diverse career. There are so many different avenues that you can venture down and explore to find where your passion lies. It's challenging but rewarding in the sense that you are caring for others. It's a great career," Snabaitis said. "I love it, and I encourage everybody to go into the healthcare field, especially with the nursing shortage, which exploded during the pandemic."
Snabaitis even gave a helping hand during the pandemic.
"I volunteered at Pomperaug Health, administering COVID vaccines," she stated proudly.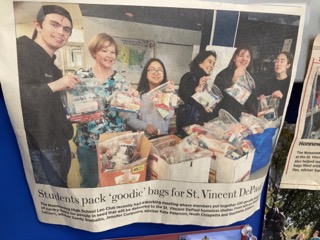 Snabaitis is generous with her time and has volunteered at various different activities in her community. She has also been the Leo Club Advisor, a community organization dedicated for social services, here at Nonnewaug for over eight years.
"I've been the Leo advisor here at the high school for eight years, doing a variety of volunteer work and community service, from soup kitchens to luminary lighting on Christmas Eve, and working with the Lions Club and all their community services at the food bank," Snabaitis said.
As far as what she loves to do during her free time, she loves to spend time with her family, doing various physical activities.
"As a family, we go skiing, we go hiking. I have a summer place in Maine I go to, and biking — my husband and I love to ride bikes," she said.
Overall, Snabaitis has lived a very accomplished life, achieving many goals, while still finding the time to be a loving wife, mother, nurse, and vital supporter in the community.
She is just one of those people that have so many facets about them. She has many stories to tell and such an incredible sense of humor. If a student or staff members finds themselves in the nurse's office, be sure to strike up a conversation with her — that is, if she doesn't beat you to it. 
When she retires as our nurse, she still won't be done just yet.
"I hope to complete my nursing career at Nonnewaug and when I am done here," Snabaitis said, "I still think there's one more road for me to travel — and who knows?"