Mysterious Smith Enjoys Strong Friendships
WOODBURY — Have you ever known a person for so long — you talk to him every day — and still know nothing about him? He's been over your house so many times, but you never go to his house. You never ask him any questions about himself, and when you mean to, they just never get asked. None of his friends know much about him, either.
That person is Ryan Smith. Most people who go to Nonnewaug know him — or at least his name — and that's about it.
"Ryan Smith? He is boring," says Jack Thompson.
"What I know about Ryan is that he has a few pets and he's an only child," says Logan Patratis.
Smith tried to clear up some of mystery.
"I like to hang out with my friends whenever I can," says Smith. "I am an only child, so I don't have much to do at my house."
Smith has a few pets who give him a lot of stories to tell.
"I have two cats, Coconut and Crush," he says. "They are very funny cats because when they see my dog, they hide and whack him as he passes. It cracks me up every time."
As much as Smith talked, still no one knows too much about him.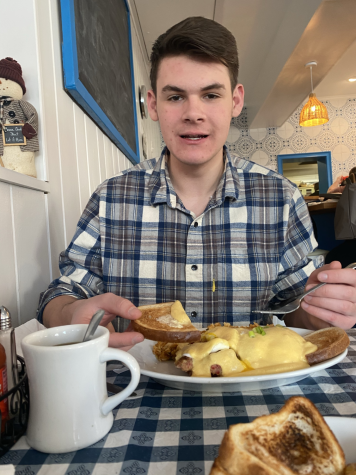 "I've been with Ryan since I remember," says Tyler Moody. "I know his pets names and where he lives, but I don't know what he likes to do. He will do a lot, but it doesn't help to single out what his favorite thing to do is."
Smith insists he isn't trying to hide anything, but still no one asks anything about him or what he wants to do. 
"I only talked to Ryan asking about himself once, and I've been friends with Ryan for years," Thompson says. "When I talked to him, we were waiting in a parking lot for work."
"Me and my friends went bowling a few weeks ago and Ryan came," Carter Johnson says. "He was good at bowling, but only talked about the game or what was going on after the game we were playing. Ryan was one of the better players there, but he still didn't come in first."
Smith said he prefers to listen.
"I really don't talk too much about my personal reasons," he explains. "I wait and listen. I don't try to say who is better or get mad when someone doesn't shut up. I wait until asked or someone is waiting for a response to speak." 
Even though he's quiet and mysterious, Smith and his friends share strong relationships.
"Ryan Smith is a great person, and I think he will be my friend for a long time," Moody says. "He was always there for me and will always be there for me. I will do the same for him. He supports me and goes to some of my hockey games. He drove me before I got my license. He is a great friend."
"I try to be there for my friends, and if I can't, I try to make it up," Smith says. "I need my friends. They are there for me, kinda like brothers. I am an only child and they are getting me through my childhood. They will always be there when I need them the most."