Zielinski a Man of Many Tools, From Saws to Welders to a Joy for Teaching
WOODBURY — "Mr. [Zielinski] taught me everything I know about welding and helped me follow my career in what makes me happy and I love doing,'' says Ty Reynolds, one of Andrew Zielinski's many students.
How did the beloved mechanics teacher start in his path to becoming a Nonnewaug ag teacher?
His love for mechanics started when he was young. Zielinski recalls always working with his dad in the garage on tractors and learning some other aspect of mechanics with him. He had also been to many machinery shows and tractor pulls together with his father so he was essentially "brainwashed" to enjoy this hobby. He enjoys teaching his passion: welding. Additionally, Zielinksi loves tractor tune-ups, CDL training, and torch cutting. He knows how to teach everything. 
Zielinski attended Nonnewaug himself; he graduated in 2011 and was also a FFA chapter officer. In college, he attended SUNY Cobleskill and there he was a part of the timber sports team.
Before teaching, Zielisnki was involved in many things but his main job was ​working at G&H Equipment in North Haven. His main role there was parts manager but also helped in both the sales and service departments. He enjoyed the customer education piece of the job and always had a desire to teach in a high school but wanted to gain industry experience first. While he was working there, he also worked on getting his teaching certificate and eventually earned his degree in 2016. 
Once Zielinski was able to teach, he began teaching mechanics at Wamogo High School in Litchfield where he met his wife. 
"I was very grateful to get a roll in the agriscience program because that's what I love doing," says Zielinski. "I like seeing students enjoy what they learn and take in interest in something they didn't anticipate having an interest in.'' 
But if Zielinski were to have one favorite subject in Nonnewaug ag mechanics, it would ​unquestionably be welding. Zielinski's passion for welding continues to grow even now as he's enrolled in a course that teaches TIG welding, which focuses on the art of bonding metals together. 
"Welding for sure [is my favorite]," Zielinski said. "Welding is something that I have been trying to do more of at my house and it is fun to incorporate some of my experiences with it into the classroom, as well as talking about the creative side of welding that not everyone thinks of.''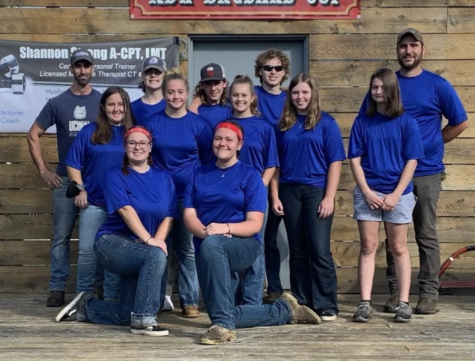 Zielinski's experience in collegiate timber sports led him to create the Woodbury FFA timber team in 2021. He has made friends through the years competing personally, which has allowed numerous mentors to come in and assist the team.
Shelby Rushin, the timber team co-captain, is thankful for the experience Zielinski brings to the team.
"He knows not only how to teach us, but also explains it and why we have to do certain things, certain ways," Rushin said.  "He's a great coach. He helps us with whatever we need and is always trying to make us better, as a teacher or individually." 
Even though ag is fun it sometimes gets a quite busy in the classrooms with many students involved in a variety of hands-on projects. 
''​It's challenging and fun," Zielinski said. "Every day is different, and you always must consider the unexpected such as if a tractor doesn't start, you have to take the time with the class to fix it or if you run out of a material you must have a backup plan to keep everyone productive and learning."