DeMarest: A 'Perfectly Fine' Ranking of Taylor Swift's Nine Albums
With Taylor Swift currently working to reproduce her original albums, it's a great time to establish the ranking of her releases. This ranking will be established by myself, someone with no qualifications except the fact that I've listened to each of these albums at least once in my life. However, what I lack in qualifications, I make up for with my wonderful taste in music. 
Before getting into the list, some baselines should be noted. If an album has been re-recorded, only the re-recording will be addressed. This list will also only include her nine albums, none of her Long Pond Studio recordings, recordings of her live, or any chapters of an album. This ranking will also include my top three songs from the album in no particular order. Without further ado, here is my official ranking of Taylor Swift's albums.



Taylor Swift
Swift's debut album is where it all started. At just 16 years old, Swift released her first album and started her career in the music industry. While this album is iconic with its teal color and her distinctive sounding southern accent, Taylor Swift has only improved since her inaugural album.
Top 3 songs on the album: "Our Song," "Should've Said No," and "Picture to Burn."



Fearless (Taylor's Version)
When Taylor Swift started to re-record her albums she started with Fearless. While the album is ranked towards the bottom of this list, it should be noted that this is still a work of art. While the original album was good, the vault songs on the new recording only made the album better.
Top 3 songs: "Love Story (Taylor's Version)," "You Belong With Me (Taylor's Version)," and "The Way I Loved You (Taylor's Version)" with an honorable mention of "Mr. Perfectly Fine (Taylor's Version) (From The Vault)."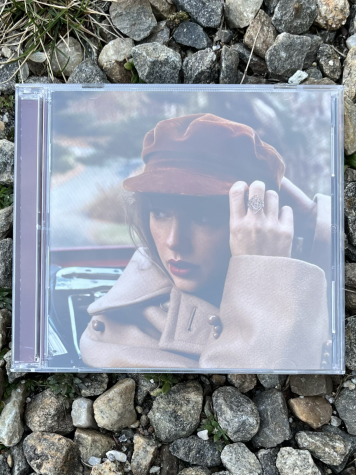 evermore (deluxe version)
This album is Swift's newest except from her re-recordings. This is also Swift's second album since her shift in genre. The album is great, but isn't as great as its sister album, Folklore, leaving it to rank at the No. 7 spot.
Top 3 songs: "champagne problems," "right where you left me (bonus track)," and "no body, no crime (feat. HAIM)."



Red (Taylor's Version)
This album is the latest to be released by Swift. In celebration of its release, Swift teamed up with Starbucks for the day and a companion short film was released. The re-recording also provided Swifties with some wonderful vault tracks, such as the ten minute version of "All Too Well." While the vault tracks on this album are superb, the regular songs aren't as good as those on other albums.
Top 3 songs: "All Too Well (Ten Minute Version) (Taylor's Version) (From The Vault)," "Message In A Bottle (Taylor's Version) (From The Vault)," and "Red (Taylor's Version)."



1989
As we get into the top five albums, it should be noted that these are all masterpieces and 1989 is no exception. This album includes some of Swift's most fun and catchy songs. This album has no skips amongst its thirteen songs. 
Top 3 songs: "I Know Places," "Out of the Woods," and "Wildest Dreams (Taylor's Version)."



Lover
This is Taylor Swift's most underrated album and I will not budge on that decision. The album has some wonderful songs and it doesn't get the recognition it deserves. The Lover era was also cut short due to COVID, but what was made of the era was great. This was also Swift's first album that she owns.
Top 3 songs: "Cruel Summer," "The Man," and "The Archer".



Speak Now (Deluxe Edition)
This is Taylor Swift's best country album. Some of Swift's best songs are on this album and it really provides a variety of music with its differences in song topics that explore various perspectives on similar subjects.
Top 3 songs: "Sparks Fly," "Haunted," and "Enchanted" with an honorable mention of "Better Than Revenge."



folklore (deluxe version)
This was Swift's first album from her shift in genres and it was a surprise album that was released during the COVID pandemic. This album did not disappoint. It's a lyrical masterpiece with songs that range in topics from love to her house. 
Top 3 songs: "exile (feat. Bon Iver)," "this is me trying," and "mad woman."



reputation
This album holds the number one spot in my ranking because it's just that good. It's a no skip album with some wonderful songs. As her response to the rumors and hatred that spread, she did a phenomenal job with the comeback and produced a spectacular album. The reputation era was also iconic.
Top 3 songs: "Don't Blame Me," King Of My Heart," and "… Ready For It?"