Graduation: Excitement and Anxiety Awaits NHS Seniors, Say Alumni
WOODBURY — Life after graduation can feel like the drop after the peak of a rollercoaster — petrifying but also thrilling. Graduation marks a large milestone: the end to a four-year high school journey. Nonnewaug's graduation is scheduled for Saturday, June 18 — only three more months and seniors will begin a new transition in their lives.
"After graduation I am most looking forward to starting a new chapter in my life," senior Reilly Faraci noted in expressing her excitement to start college in the fall. "I'm excited to go to college, see how it changes me as a person and where it will take me. I am a little scared of how different it will be, but excited to begin this stage of my life."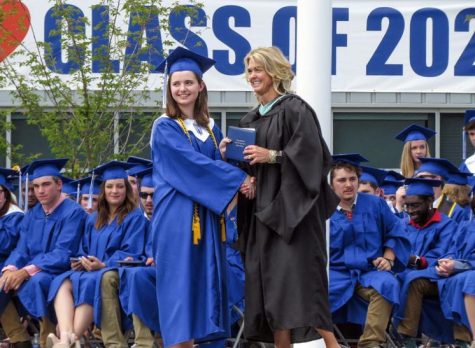 What do I do after high school? It's a question many high school students stumble upon. There are a variety of different paths to success. According to the New York Times, around 30% of high school seniors will not attend college, and this number is only increasing.
This data point includes students who plan on attending college, but anticipate taking a gap year prior to enrolling. Reasons for this gap year include saving money to afford college, assisting with family businesses amidst a nationwide labor shortage, and an overall indecision regarding what to pursue while in college. 
For those planning on enrolling in college this coming fall, Nonnewaug alumni agree that a vital part of the experience is taking advantage of every opportunity higher education affords. 
"It is extremely important to appreciate life more in the moment," says Sindy Gorka, who is currently studying molecular and cellular biology as a sophomore at UConn. Gorka graduated from NHS in 2020. "For me it was easy to get caught up in school and extracurricular activities, but living life while you're young is very beneficial."
While college life provides a litany of new opportunities, alumni agree that a busier schedule and additional responsibilities await after high school graduation. 
"Life overall is just harder," notes 2013 NHS graduate Dea Gorka, a medical student who is on track to complete her PhD this spring semester. "But [college life is] also much more independent, you get to make your own decisions about everything, food, where to live, vacation, etc. — it's all on you."
Regardless of who our current students talk to, the sentiment among graduates remains the same: Enjoy every moment while still in high school. Life after NHS will bring responsibility and endless opportunities.