Kiss My Mask Goodbye: Students Brace for Return to Normal Life
WOODBURY — Nonnewaug students have struggled to learn in unfavorable conditions. As the pandemic raged on for two years, precautions have been coming and going. Masks, outdoor mask breaks, indoor mask breaks — six feet apart, then three feet apart — Plexiglass at lunch, then no Plexiglass. Students haven't been in a consistent environment. 
March 1 marks a new era in school life for students. Masks are now optional. This is a big step in the right direction for the learning environment. Since the mask mandate was placed for the 2020-21 school year, major aspects of the learning process have been impacted. 
Easier communication, learning and a rise in the performing arts are projected to occur within the next few weeks. In addition, adjustments to morning routines will be made. With this comes excitement as well as anxiety for students. 
Easier Communication
Communication as a whole has been impacted by the masks. Besides chatting with friends being muffled from the masks, learning in class has been difficult. 
"Most classes are a struggle [with masks], especially when you aren't sitting in the closest area of the teacher," says Morgan Walters, a freshman at NHS. "It gets annoying having to ask your teacher to come over and answer questions because you can't hear properly." 
Masks have been difficult for students and staff alike due to not being able to properly understand what is being said during instructional time. 
"Focusing in class in general was very difficult worrying about keeping your mask up" said Emma Long, a senior.
Socially, masks were distracting and made holding conversations uncomfortable. 
"[Masks] itch. It's distracting when you end up worrying about what's on your face instead of focusing on the conversation," added Long. 
Daily Routine Changes 
Students who wear glasses no longer have to spend priceless time trying to fit their mask under their glasses without them fogging up. Student drivers also will not need to run back to their cars to grab a random mask off the floor of their car. 
A common sight not seen at NHS since 2020 has been makeup. 
"I used to know a lot about my appearance before masks," says Hannah Ely, a junior at NHS. "I stopped wearing makeup [when masks became required] except for mascara and I have continued to curl my eyelashes." 
Masks made students realize they didn't need makeup to have friends or be liked. Ely doesn't plan on returning to a full face of makeup now that the mandate is lifted, but many students at NHS are as an outlet for expressing themselves after having most of their face hidden behind a mask for almost two years.
Participation in Performing Arts
As the spring rolls around, that means many events for students in the music department are coming. Participation in the performing arts such as the drama club, band, choir and other performing groups has been on the decline for many years, and was dramatically sped up since the start of the pandemic. 
A group hit the hardest was the concert band. Members of the band had to wear playing masks, which essentially were normal masks with holes cut into them to fit the mouthpiece of their instrument in it, and put a bell cover, similar to a string-backpack on the bell or end of their instruments. 
"I think people knowing playing masks were required had a big impact on the decrease of people joining the music department. People thought it would limit the experience and won't be as fun as without [playing masks]," said Emma Cummings, sophomore euphonium player. 
However, with the end of the mask mandate members of the various performing arts groups also no longer have to wear masks.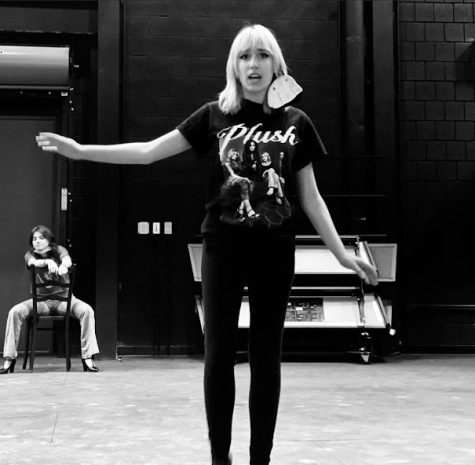 "With the mask mandate being lifted, I think people will be motivated to join as they won't have to wear a mask when they're trying to perform," Cummings added. 
Safety Concerns
With the masks coming off, this shows as a return to normalcy to most students and staff. For some, however, it starts a new era of anxiety and fear. For a variety of reasons, staff and students may choose to keep masks on. 
"I have immediate family members who are immunocompromised," says Juliann Noyd, a sophomore. "I'm worried that after the mask lift, there will be a spike in COVID at Nonnewaug, so I want to wait until I know there isn't going to be a bunch of cases to go without a mask. I'm not worried so much about others not wearing masks because I will have one on, but I hope people continue to be COVID-safe even without masks on."
It is expected that those who decide to take the mask off are respectful to those who leave them on. 
Bracing for Impact 
With a majority of the student body excited to ditch the masks, some aspects will change quickly while others will take longer. 
"Learning will 100% become much easier and we will start to see individuals showing more personal growth," stated Walters.
As the main purpose of school is to learn, it is important that the learning is being done in a comfortable and easy-to-understand environment. 
For those students like Noyd, they are proceeding with extra caution to ensure the safety of their loved ones.
"I hope that despite the mandate being lifted," Noyd said, "people continue to be conscious of people who are immunocompromised or who have families that are."